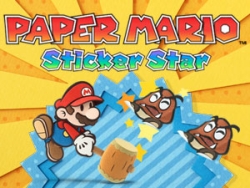 Welcome to your weekly dose of new Nintendo Downloads. Here's what you'll be able to download today (and one game on Sunday):
Paper Mario: Sticker Star (3DS eShop) – Available Sunday, November 11. When an accident scatters stickers across the land, Mario sets off on an adventure to repair a torn world. Searching Forests, Deserts and Mountains, Mario collects stickers to solve puzzles and battle monsters. Flatten characters, roll out towns and walk through living, breathing dioramas.
Pokedex 3D Pro (3DS eShop) – The Pokedex 3D Pro application is an upgraded version of the original Pokédex 3D application, exclusively available in the Nintendo eShop for $14.99. It includes detailed information about more than 640 Pokemon from the Pokemon video game series. The Pokedex 3D Pro application also includes in-depth sorting, comparison and ranking tools, as well as comprehensive details about the moves each Pokemon can learn, and how and when each Pokemon evolves.
Johnny Hotshot (3DS eShop) – After being warped into the world of one of Johnny's favorite arcade games, Cowboy Hotshot, Johnny must take on the role of sheriff and purge the town of the bandits led by Mr. Wang!
Dress To Play: Cute Witches! (3DS eShop) – Make a little witch and design her outfit in the dressing room. When you finish, get ready to set off on an adventure as your character flies away on her broomstick to a peaceful world inhabited by fantasy characters.
A demo of Epic Mickey: Power of Illusion has also been added to the 3DS eShop ahead of its November 18 release. Be sure and check it out along with the rest of this week's Nintendo Download, which can be found after the break.
Come On! Dragons (DSiWare) – As the most skilled protector of the kingdom, you must strike back against the invaders with your mastered archery.
Smart Girl's Playhouse Mini (DSiWare) – Choose from 6 fun games and activities such as Drawing, Find Differences, Dress-Up and more!
Sengoku 2 (Wii Virtual Console) – Sengoku 2 is a belt-scrolling beat-'em-up game. The characters are warriors who have been summoned by a sorceress princess to take down a dark lord while battling through various epochs.