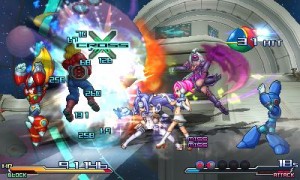 If you're a big fan of Capcom, Namco Bandai, or Sega characters, then this announcement will please you. Capcom announced today on their blog that the Capcom/Namco/Sega crossover game, Project X Zone (working title), will be coming to the United States this Summer for the Nintendo 3DS.
This strategy RPG will feature over 50 playable characters you know and love from 29 franchises, including Darkstalkers, Mega Man, Shining Force, Street Fighter, Tekken, and many more. The game has been developed by Monolith Soft and Banpresto, and will feature a team system known as a Pair Unit, which can combine with a Solo Unit to make Solo Attacks in addition to the attacks of the Pair Unit. Other moves will include Cross Hits, Finishing Moves, Solo Attacks, and Support Attacks.
The crossover is explained in the story, in which a rift in time and space appears in the shadow world that lurks underneath everyday life. This rift opens a doorway to other universes, bringing in the heroes and villains from the different worlds.
Look for Project X Zone for your Nintendo 3DS this coming Summer. I can't wait to see the kind of characters I can pair together, and what their epic moves will end up being.