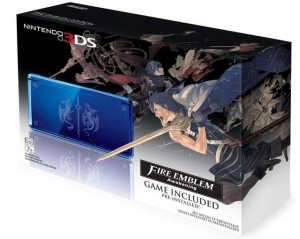 It's a 3DS kind of day as this week's Nintendo Download features four new games for the handheld as well as a Fire Emblem: Awakening demo. Awakening is the first game from the strategy series to make an appearance on the 3DS and it'll be available in stores (and on the 3DS eShop) on February 4.
Also available this week is Tokyo Crash Mobs, a live-action match-3 puzzler with real people; Kirby Star Stacker, a classic Game Boy puzzler; minigame collection Finding Nemo: Escape to the Big Blue; and Deer Drive Legends, a hunting simulation.
More details for all of these games can be found after the break.
Tokyo Crash Mobs (3DS eShop) – Get ready to unleash pedestrian-tossing pandemonium! All Grace and Savannah want is to make it in Tokyo, but what's with all the scenesters, bomb balls, flower displays, and ninjas getting in their way?! And don't even get me started on the UFO abductions, or how easy it is for a visit to Tokyo to end with getting sucked into outer space…
You'll need lightning-fast reflexes and an eye for strategy to succeed in this fast-paced puzzle game, where live-action video blends seamlessly with wacky digital graphics. Throw and roll hapless bystanders into lines of people, trying to group three or more who wear the same color together so that they'll form a clique and disappear.
Kirby Star Stacker (3DS eShop) – Join Kirby as he stacks the falling stars with help from his friends, Rick the Hamster, Kine the Sunfish, and Coo the Owl. Watch out for King Dedede. He is out to stop you! With a few quick moves and some well-timed strategy, you can quickly outwit him and move on to the next challenging level.
Finding Nemo: Escape to the Big Blue (3DS eShop) – All the tank fish are escaping to the ocean and you play over 30 mini-games to get them farther out to sea.
Deer Drive Legends (3DS eShop) – Get your firearms locked and loaded. Deer Drive Legends takes you to the far corners of the earth to hunt some of the wildest animals rarely seen by the human eye – several even believed to be extinct.