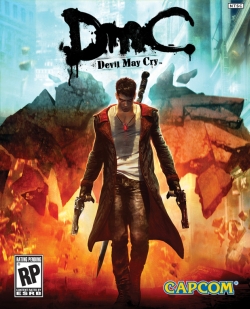 Sony has added five games to the PlayStation Store and… you'll never believe it… one of them is a PSP game!
Corpse Party: Book of Shadows comes to Sony's other handheld and "expands and elaborates" on the 2011 horror game. If you like adventure games and you haven't upgraded to a Vita yet (or even if you have), it might be one to check out. Also available this week is two very different PS3 games focused on total destruction.
DMC: Devil May Cry is a fast-paced prequel to Dante's battle against the demonic hordes. There's gunplay and swordplay and other playful methods of giving a boot to the face of the denizens of Hell. On the other hand, Angry Birds Trilogy is all about flinging fat birds at even fatter pigs and destroying their houses. And you don't even have to huff or puff.
Finally this week is a pair of PS2 classics. The underrated (but loved by many) Siren and the underrated (but loved by many) Disgaea: Hour of Darkness.
More information on all of these games can be found after the break and a complete overview of this week's new game add-ons can be found at the PlayStation Blog.
PS3 Full Games
DMC: Devil May Cry ($59.99)
In a society corrupted by demons only The Order can see the world for what it really is. Join Dante in the ultimate experience of stylish action chain together combo after combo with panache and dispatch demonic spawn back to hell. Call upon unimaginable powers combined with Dante's epic arsenal of weapons: sword, scythe, axe, pistols and more. Face your demons…
Angry Birds Trilogy ($39.99)
Angry Birds is taking flight for the first time ever and crashing on PlayStation 3 systems everywhere! Includes: 3 Best-Selling Angry Birds games and 19 exclusive levels.
PS2 Classics
Siren ($9.99)
Explore the occult and experience incredible terror in the town of Hanuda.
Disgaea: Hour of Darkness ($9.99)
The king of the Netherworld is dead. Join his son, Laharl, as he embarks on a quest to take his rightful place on the throne in this tactical RPG.
PSP Games
Corpse Party: Book of Shadows ($19.99)
A series of eight lengthy vignettes expanding and elaborating on the 2011 cult horror classic "Corpse Party." Taking place before, during and after events from its predecessor, Book of Shadows seeks to answer the questions, what if, what then, and what now? New point-and-click adventure style gameplay, binaural 3D audio with original Japanese voices, dozens of endings and tons of unlockable extras will keep players awake for many nights to come.