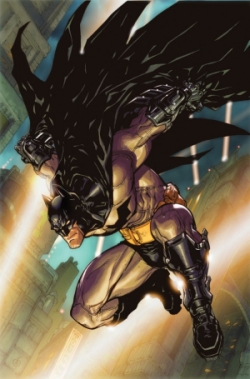 Batman: Arkham City wasn't always known as Batman: Arkham City. Originally, WB Games referred to the project as Batman: Arkham Asylum 2 when it was first unveiled during the 2009 Spike TV Video Game Awards. it was only later that we would learn the game's official title as part of a mass registration of domain names by WB Games.
Can you guess where this is going? Yup, Warner Bros. has gone on another domain registration spree.
The following domains were all registered by MarkMonitor, the domain management company that handles all of Warner Bros.'s web addresses. So it is (technically) unknown if Warner Bros. even owns these domains. But they probably do. And they could have been registered for any number of reasons. As misdirection… as a pre-emptive strike against domain squatters… to promote a product completely unrelated to video games… for some other reason entirely. It is literally too early to tell.
But here's the list of domains anyway. Personally, I think "Batman: Arkham Knight" sounds kind of awesome…
arkhamuniverse.com (Arkham Universe)
batmanarkahmuniverse.com (Batman: Arkham Universe)
batmanarkhamarises.com (Batman: Arkham Arises)
batmanarkhambegins.com (Batman: Arkham Begins)
batmanarkhamdarkknight.com (Batman: Arkham Dark Knight)
batmanarkhamknight.com (Batman: Arkham Knight)
batmanarkhamlegend.com (Batman: Arkham Legend)
batmanarkhamlegends.com (Batman: Arkham Legends)
batmanarkhamnight.com (Batman: Arkham Night)
batmanarkhamorigins.com (Batman: Arkham Origins)
batmanarkhamstories.com (Batman: Arkham Stories)
darkknightarkham.com (Dark Knight Arkham)
dcarkhamuniverse.com (DC Arkham Universe)
dcarkhamverse.com (DC Arkhamverse)
thearkhamuniverse.com (The Arkham Universe)
[Source: Fusible]