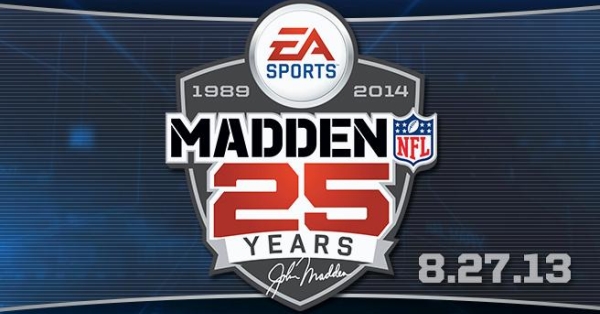 After teasing us yesterday with the above image, EA Sports has officially announced this year's version of Madden NFL Football. But instead of carrying the name Madden NFL 14 like we all expected, the game will instead be known as Madden NFL 25 in celebration of the franchise's 25th anniversary. This is really going to confuse people when the year 2024 rolls around.
"There's no better way to celebrate and mark the culmination of 25 years of innovation than by naming this year's game Madden NFL 25," said Cam Weber, General Manager of American Football for EA Sports. "This year's game will push the boundaries with gameplay and feature innovations that will lay a very strong foundation for the next 25 years of this storied franchise."
EA also announced that this year's Madden Cover Vote will begin on March 11. For Madden NFL 25, the team at EA Tiburon is going back in time to pit 32 NFL legends against 32 current players. Like last year, the bracket will be unveiled live on ESPN2's SportsNation.
Madden NFL 25 is in development for the PS3 and Xbox 360 and will be released on August 27.