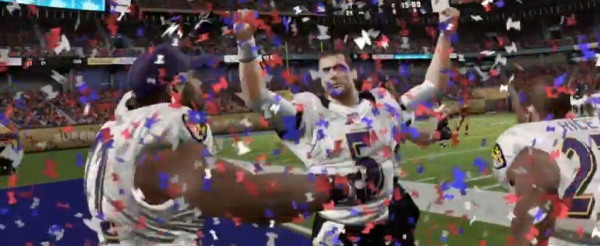 EA Sports' Madden NFL Super Bowl Simulation is always pretty close to the final result, but this year's prediction was so scarily accurate that some might be wondering if the fix was in. As prognasticated by Madden NFL 13, Super Bowl XLVII ended with a Baltmore Ravens victory over the San Francisco 49ers. But the simulation also accurately served up a wide variety of indiviudal moments from the game:
The 49ers were held to a field goal in the first quarter.
Joe Flacco threw a touchdown pass to Anquan Boldin.
The Ravens put the game away with a Justin Tucker field goal.
The margin of victory was three points (34-31 in real life versus 27-24 in the simulation)
Joe Flacco was named the Super Bowl MVP.
But of course, no simulation could have predicted the 34-minute blackout that overtook the game or that the Star Trek Into Darkness trailer would be super good (Benedict Cumberbatch just needs to be in every movie… ever). With this correct prediction, the Madden Super Bowl Simulation improves to 8-2 since EA Sports began making picks in 2004.