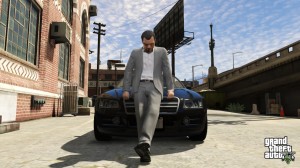 Just in time for the Game Developers Conference, Rockstar Games has released a new batch of Grand Theft Auto V screenshots they're calling "Sunsets, Seas, Skies and So On." Marvel at the world's scariest pier… Be astounded by main character Michael walking away from his car…
OK, they're not the most exciting screenshots ever, but they are new.
Grand Theft Auto V will be released for the PS3 and Xbox 360 on September 17. Hit the jump to view the complete gallery.