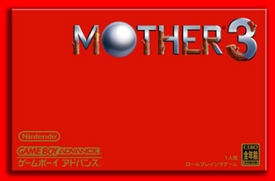 With the news that Nintendo is finally bringing EarthBound to their Virtual Console service, fans have once again begun asking the inevitable followup question, "What about Mother 3/EarthBound 2?"
As is typical of Nintendo, they haven't discussed the prospect of a North American release of Mother 3 since the EarthBound announcement. But the team behind the Mother 3 Fan Translation wants to get a dialogue going. And their first shot is a big one: they've offered to let Nintendo use their translation of the game, for free, in an American release of Mother 3. And, if need be, they plan to go even further than that to secure an official release of the RPG:
I realize that localizing a game this size can cost a lot, so if it'll help in even the slightest, I'll gladly offer to let Nintendo use my text translation files for any use at all, completely for free. I'll even edit the files to fit whatever new standards are necessary (content, formatting, memory size, etc.), completely for free. I'll even retranslate everything from scratch if need be. Just whatever it takes to get an official release out.
While it's unlikely that Nintendo would use a fan translation to bring the game to the US, the translators have pointed out that it has happened before. Most recently, XSEED used a fan translation as a starting point for the Ys: The Oath in Felghana localization.
The other major hurdle to a North American release of Mother 3 is the fact that the game was originally released on the Game Boy Advance, a system that is "dead" for all intents and purposes. Of course, there's always the Virtual Console on the 3DS…