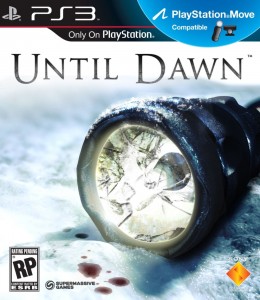 Sam Raimi's Evil Dead reboot isn't the only "cabin in the woods" a group of unlucky teens will be exploring this year as the PS3-exclusive Until Dawn is still on track for a 2013 release. After the game was announced last year, developer Supermassive revealed that the game was designed for use with the PlayStation Move controller and that the motion control peripheral was required for Until Dawn. PS3 owners requested DualShock supprt, but a PlayStation Blog post from October reconfirmed that the Move was the only planned input option for the game.
Fast forward to today and the reveal of the game's official boxart on Amazon. The banner along the top states that the game is "PlayStation Move Compatible" instead of "PlayStation Move Required," implying that DualShock support will ultimately be included in the game.
So we should all celebrate, right? Not so fast. Until Dawn's profile page on PlayStation.com shows a "PlayStation Move Required" banner along the top, but it also features a tiny picture of the new boxart that includes the "PlayStation Move Compatible" wording. We've contacted Sony and will update this story with the official word once we hear it.
At this point, those of us who want to play Until Dawn with a DualShock controller are still in limbo. Much like the limbo that trapped Bruce Campbell within the woods in Evil Dead II. And that turned out OK, he got a chainsaw hand out of the deal…
Of course, he had to cut off his possessed hand at the wrist first.