Supergiant's first game, Bastion, was an action RPG in the Legend of Zelda mold that didn't tread on any new gameplay ground. But its narrative voiceover (provided by actor Logan Cunningham), and the way it integrated music into the story, moved Bastion beyond being just an enjoyable XBLA title and pushed it into Game of the Year contender territory back in 2011.
The developer's second game, the sci-fi action RPG Transistor, made its worldwide debut at last month's PAX East show. Using a similar isometric view, it's clear that Transistor shares a fair bit of Bastion's DNA, but it is also so much more. It's almost like Bastion turned up to 11.
Platforms: To Be Announced
Publisher: To Be Announced
Developer: Supergiant Games
Genre: Action RPG With a Dash of Strategy (and Narration)
Release Date: Early 2014 (Probably)
ESRB Rating: Rating Pending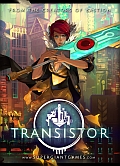 Bastion wasn't big on explanation right out of the gate. The story of The Kid, Rucks, The Stranger, The Singer, and The Calamity was parceled out in dribs and drabs. The same is true of Transistor. The game stars Red, a voiceless singer who has been attacked and nearly killed by a group of assassins. In a previous life, she sounded like Ashley Barrett (who voiced The Singer in Bastion), and her songs appear throughout the demo.
Somehow, Red survives the attempt on her life and she comes into possession of the titular Transistor, a sword-like, sentient piece of computer equipment. The Transistor can talk to the essence of other people who have been murdered by the assassins (a collection of mysterious robots known as "The Process"). These unheard discussions add a quartet of special moves to Red's arsenal, including a downward strike, a strong blast, an explosive attack, and a teleport trick known as "Jaunt."
Like Bastion, the game is again narrated by Logan Cunningham. As the voice of the Transistor, he fills you in on the game's plot as well as outlines the nature and weaknesses of the Creeps and the Jerks (two styles of robot assassins that follow Bastion's lead of naming enemies after insults).
Unlike Bastion, Transistor augments the action RPG sword-swinging with "Turns." Pressing the Right Trigger stops time and allows Red to map out a plan of attack that can include multiple strikes and plenty of movement. You might say its similar to Fallout 3's VATS system… if Fallout 3 were played from an isometric perspective (I might be opening some old wounds with that comparison).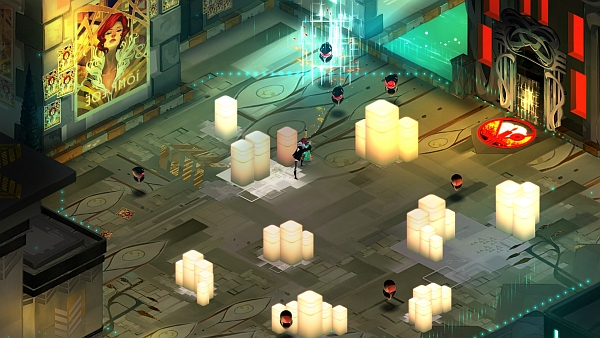 This strategic battle plan adds a lot to Transistor, though I found it difficult to rewrite my plan after I'd started. Sometimes the game would let you take back moves with the Left Trigger, and other times it wouldn't. I imagine once I have more time with Transistor, the "Turn" mechanic will become second nature. I hope as much, as one part of the demo required Red to use a "Turn" to activate two switches at the same time to open a door. Something tells me that kind of puzzle will show up often in the final game.
Supergiant's in-house music man, Darren Korb, is also back to provide the game's soundtrack. Gone is Bastion's "acoustic frontier trip-hop." But in its place is something a little jazzier to fit the futuristic feel of Transistor's sci-fi landscape. I like it and I can already picture myself adding the soundtrack to my CD collection.
This early taste of Transistor looked incredibly polished and the sci-fi cityscape suits Supergiant's talents well. I like that the game gives players two options to take on "The Process," including a style based on a traditional action RPGs and the more strategic planning of the time-stopping "Turn." Supergiant expects to release Transistor in early 2014, but they haven't finalized which platforms it'll appear on. My time with Transistor at PAX East was played using an Xbox 360 controller, but right now I can't imagine not following it wherever it lands.