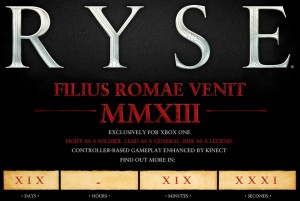 Ryse, Crytek's Kinect-exclusive game of Roman combat, was first revealed at E3 2011. In the two years since, almost nothing new about the game has been revealed. But this morning, Crytek updated the Ryse placeholder page on their website, confirming that the game has made the jump to the Xbox One.
Fight As A Solider. Lead As A General. Rise As A Legend.
This image actually gives us a ton of new information about Ryse, such as the fact that it's no longer Kinect-exclusive. The game is now played mainly with a controller with Kinect enhancements. The Latin phrase on the page, "Filius Romae Venit MMXIII," also tells us that the game is more than likely a launch title. The literal English translation is "The Son Came to Rome in 2013."
Finally, the countdown clock at the bottom of the image expires in "XIX," or 19, days. Microsoft's E3 Press Conference will take place on June 10, exactly 19 days from now. So prepare to learn more about Ryse at E3.