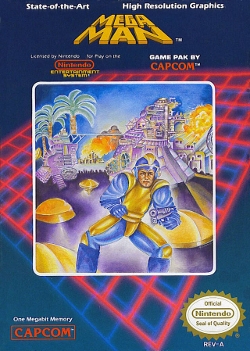 The Wii U's Virtual Console expands by two today as Nintendo has added the NES games Mega Man and Pac-Man to their next-generation gaming time machine. The 3DS Virtual Console also expands today thanks to the addition of Balloon Fight.
Another re-release makes the Wii U eShop a more interesting place today: the free-to-play version of Namco Bandai's Tank! Tank! Tank! The game was originally released as a disc-based game in November. The new free-to-play version will offer the "base game" as a free download with the remainder of the modes and missions available as ten separate pieces of downloadable content.
If you'd prefer something new from your Wii U shopping experience, Neko Entertainment has published the puzzle platformer Kung Fu Rabbit on the Wii U eShop.
More information on all of these games, and other new releases this week, can be found after the break.
Wii U eShop
Pac-Man – Control iconic character Pac-Man as you navigate through mazes, eating Pac-Dots and simultaneously avoiding devious ghosts. Warp from one edge of the maze to the other using tunnels, or eat a Power Pellet to turn the tables and make the ghosts vulnerable. Earn extra points to achieve the high score and see how far you can get before losing all your lives.
Mega Man – Join the blue bomber in his first ever adventure as he battles the evil Dr. Wily and his robotic henchmen. Mega Man is a super robot created by the genius scientist Dr. Light. When another scientist by the name of Dr. Wily goes rogue with an army of six of his own devious Robot Masters, it's up to Mega Man to put a stop to his nefarious plot by traversing a series of stages rife with enemies, traps and perilous platform challenges. Mega Man was originally released for the Nintendo Entertainment System in 1987.
Kung Fu Rabbit – Life in the temple of rabbits hangs by a thread. Universal Evil has struck again and kidnapped all of your disciples. Only you managed to escape. They let you live… They'll soon regret it! Use your agility and combat skills to save your disciples! Jump from roof to roof, slide gracefully along walls, sneak up on your enemies, and rip them to shreds!
3DS eShop
Balloon Fight – Don't be fooled by the simple premise of Balloon Fight: Underneath the game's cute exterior you'll find a surprisingly challenging game with strategy to spare. After mastering the easy-to-learn controls, you will have to get a grip on the game's impressively realistic physics and ever-increasing enemies and environmental hazards like lightning and water.
BearShark – BearShark, the hit animated 3D series exclusively on Nintendo Video, has inspired a game. Play as Steve, last of his bloodline, as you run, jump and swim for your life from the top predators of land and sea.
Gummy Bears: Magical Medallion – For years King Sour Berry searched for a magical artefact called the Gummy Bear Medallion, which kept the Gummy Bears hidden from him. The king finally found it and removed the three mystical gems making the Gummy Bears visible. The king's Crazy Candy Army chased and captured them setting traps for those that avoided capture.
My Riding Stables 3D: Jumping for the Team – Start a new adventure! After the exciting incidents last year, the main character returns to the riding stable of her mother. After her arrival, she has to face new challenges: Her old rival Pamela is the new jockey and a cold-hearted banker wants to close the stable to establish a hotel. There is only one chance left – to win the semifinal of the most famous horse show world-wide, organize the final tournament at the riding stable, welcome the greatest jockeys of the world and finally be recognized. The girls have to stick together to save the riding stable – and that means a lot of fun for all players enjoying numerous minigames on their beloved animals!
DSiWare Shop
Armageddon: Operation Dragon – Solar System, 2037. An asteroid as large as the moon is headed directly towards Earth. Imminent Forecast: Total Destruction!!! The human race will face its Armageddon, unless you can stop it.