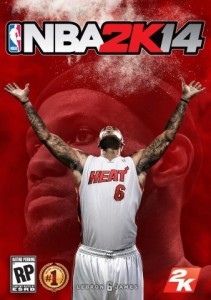 Lebron James and his Miami Heat are currently battling Tim Duncan and the San Antonio Spurs in the NBA Finals. The Heat lost the first game, but King James will surely come back in game two.
If not, at least he can take solace in his selection as the cover athlete for NBA 2K14.
Believe it or not, this is the first time Lebron James has appeared on the cover of a video game. He will also lend his likeness to the King James Bonus Pack, a special pre-order package for players who pre-order the PS3 and Xbox 360 version of the game. The King James Bonus Pack will include:
10,000 Virtual Currency to get a jump start on the competition;
Extra content for the new Path to Greatness mode;
LeBron James unlocked in Blacktop Mode;
The all-new LeBron James Signature Skill available for your MyPlayer.
"My friends, family, and fans all know how much I love NBA 2K. I remember, as a kid, getting so excited for the game to come out and see who was on the cover and it's amazing to be a part of this great tradition," said James.
NBA 2K14 will be available for the PC, PS3 and Xbox 360 on October 1 (sorry Wii U owners). The game will also be available for the PS4 and Xbox One during each system's launch.