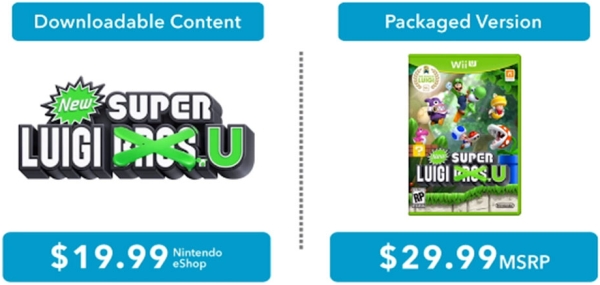 Mario's brother gets the spotlight in this week's Nintendo Download as New Super Luigi U is now available. You must own New Super Mario Bros. U to play it, but as you can above, a standalone disc-based version will be released in August if you just want Luigi. Also available today is Bugs vs. Tanks!, the latest 3DS game from Level-5's "Guild-02" collection. It was developed with the assistance of Kenji Inafune, the creator of Mega Man. And speaking of Mega Man, Mega Man VI was added to the 3DS eShop today.
Other new releases today include:
Mario Bros. (Wii U eShop)
Wrecking Crew (Wii U eShop)
Mario & Sonic at the London 2012 Olympic Games (3DS eShop)
Farming Simulator 3D (3DS eShop)
Defenders of Oasis (3DS eShop)
Sonic Blast (3DS eShop)
Tails Adventure (3DS eShop)
Rhythm Core Alpha 2 (DSiWare)
A few other high-profile games will be added to Nintendo's download services before next week's update including the minigame compilation Game & Wario (Wii U); the Namco Bandai/Sega/Capcom crossover Project X Zone (3DS); and the latest Lego game, Lego Legends of Chima: Laval's Journey (3DS).