Over the weekend, the founders of All You Can Arcade began their quest to become the GameFly of the arcade industry. From their headquarters in Antioch, California, the company rents out classic arcade cabinets for $75 a month. Is it a viable business model? What happens when someone located on the East Coast like me wants to rent a machine? We sat down for a quick chat with Seth Peterson, All You Can Arcade's co-founder and CEO, to find out.
John Scalzo, Warp Zoned Editor-In-Chief: Most "arcades" nowadays feature repurposed mobile games like Temple Run and Cut the Line. Do you believe real arcade games are due for a comeback?
Seth Peterson: Most people think that the consoles were responsible for the death of the arcades. That may have been true in regards to physical locations where you hung out and played games, but up until six years ago North American arcade operators were collecting more than $4 billion a year in quarters. Last year, we think this number [was] closer to $400 million. After the iPhone came out, it became impossible to keep your games on route. If they weren't vandalized, they were robbed and many games were entirely ignored.
We think that there is an army of people who are ready and willing to save the arcade industry from obsolescence, if they can rent games at a fair price. Our lowest competitor in the Bay Area charges $200 for a four hour party rental. We could charge the same premiums, but don't believe that there is a mass market for arcade games at that level. At the same time that same operator is putting games into locations like bars and restaurants where he's lucky to earn $25 per month after the house's traditional 50/50 split.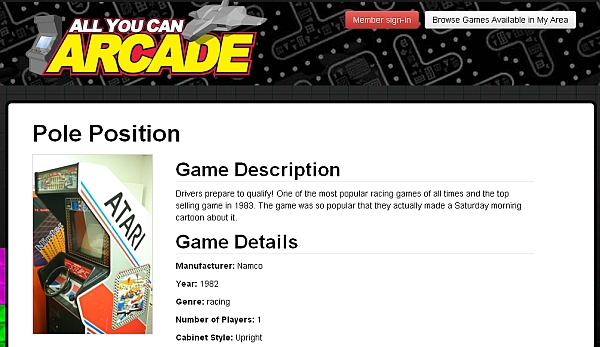 WZ – John: Does All You Can Arcade rent out original cabinets? Or, if need be, will you take the "guts" out of a broken cabinet and fashion a new one?
Peterson: Many of our arcade cabinets are original, but we also have a few games that were converted. Some games were only sold in kit form, so it's the only way that you'd be able to play them. Other games have changed identities over time for various reasons. Whenever possible, we do try to restore the games back into their original condition. We don't allow MAMEs or Mulitcades on the site because of copyright reasons, but think that if we offer a wide enough selection that members can experience the same type of choice and still enjoy the dedicated experience that the game was originally designed to be.
WZ – John: How do you plan to obtain more arcade cabinets?
Peterson: Obtaining more arcade cabinets isn't so much of a problem as having the space to keep them. About once a month there is an auction in Anaheim where they have been liquidating 100 games a month. There's another auction right now in Texas where we're about to score a killer deal on 150 PCB boards because no one is willing to pay for shipping. Ultimately, our goal isn't to acquire more games, though. This business is hard to scale when your inventory weighs 300 pounds. Our goal is to become a resource for arcade operators everywhere and to help provide a framework that allows the industry to start earning revenue again. Eventually, we'd love to offer parts at our cost to operators instead of cash if they want or even be able to provide storage facility in our busiest hubs. For now though, we have to focus on what's in front of us and in order to break up a cartel, you have to have someone willing to do it for less. In the Bay Area and Sacramento, we're willing to offer games at a fair price. We think operators will come to us before customers go to them.
At this moment, in fact, there is an arcade museum in Texas that is offering 350 games for $75,000. That works out to be a little over $210 a game. if there really is an army of people who want to rent those games, we think that operators will find deals like these and that arcades can make a roaring comeback.
WZ – John: Have you begun actively recruiting for your nationwide Partners program yet?
Peterson: We've done a little bit of recruiting within our industry, but have largely tried to stay in stealth mode. There is a big prize for being first to market. We think some operators will love us, especially those who don't have the scale to offer hundreds of games, but others may resent us for bringing in cut-throat competition. It's hard to say how we'll be perceived, but we built the site for operators and so far we've been encouraged by the feedback that we've gotten from other professionals.
WZ – John: Seth, thanks so much for talking with us and good luck with All You Can Arcade.
Peterson: Thanks. Happy gaming.