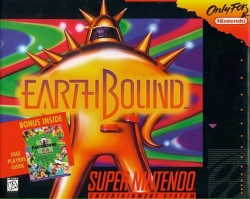 It's here! It's here! It's here! Nintendo's fantastic Super NES RPG, EarthBound, is now available to download through the Wii U eShop. Another bygone classic makes its way to the 3DS eShop this week as WayForward's Arabian Nights-inspired platformer, Shantae, has been added to the digital storefront.
The 3DS eShop also received a trio of original games this week:
Robot Rescue 3D, a puzzler where you rescue robots.
Attack of the Friday Monsters! A Tokyo Tale, the final game from Level-5's "Guild02" collection.
Undead Bowling, a bowling game starring z-z-z-zombies.
Finally, Ubisoft will add the Wii U adaptation of The Smurfs 2 to the Wii U eShop on July 23. More details about all of these titles can be found after the break.
Wii U eShop
EarthBound – The beloved Super NES role-playing game is now available on the Virtual Console service for the Wii U console. The Earth faces imminent destruction by the evil Giygas, and can only be saved by a courageous boy named Ness and his three brave friends. Battle hundreds of off-the-wall monsters, roaming dinosaurs and alien enemies, meet a giant cast of memorable characters and journey to exotic locations like Saturn Valley, Dusty Dunes Desert and Deep Darkness.
The Smurfs 2 – One of the summer's top animated films is now a fun video game. The evil wizard Gargamel has kidnapped Smurfette and taken her to Paris. It's up to Papa Smurf and friends to save the day and bring Smurfette home safe. (Available on July 23)
3DS U eShop
Shantae – When the nefarious pirate Risky Boots catches wind of the treasure that was recently unearthed in the village of Scuttle, she launches an attack. To get Scuttle out of trouble, it's up to the genie Shantae to save the day using her dancing and hair-whipping abilities. Learn Dance Magic to get new attacks, and battle your way through multiple unique locations in this classic 2D side-scrolling platformer, originally released for Game Boy Color.
Attack of the Friday Monsters! A Tokyo Tale – Step into the life of Sohta, the young son of a family that has just set up a dry cleaners shop in the idyllic town of Fuji no Hana. In his interactions with the town's unique residents, episodic mysteries are revealed that portend to the strange events surrounding the appearance of a giant monster every Friday. And finally, when Friday evening falls, the giant monster will appear right before your eyes!
Robot Rescue 3D – Guide trapped robots through treacherous passages, staying clear of paralyzing electrical circuits and sliding past sleeping mines! Interact with tiles to open doors and repaint your dopey robots different colors in order for them to escape through the right exit. Be warned! Each and every robot shares linked controls generating totally synchronized movements for an even wackier escape plan!
Undead Bowling – It's sometime in the future and zombies have overrun the earth. The pins at the local bowling alley have been eaten so the owner has rounded up a good supply of zombies to use instead.