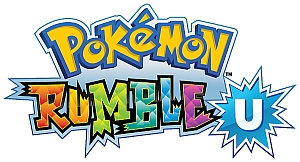 Nintendo has announced that Pokemon Rumble U, and an accompanying array of NFC-enabled figures, will be available on August 29. The game, which has been priced at $17.99, will be downloadable from the Wii U eShop. The figures, which are sold in "concealed capsules," will be available exclusively at GameStop stores.
Pokemon Rumble U is the tale of a great adventure featuring Toy Pokemon, beginning when a delivery of Toy Pokemon is swept down a river and washes up on a strange riverbank. Our bewildered Pokemon heroes set out to find their way back to the Toy Pokemon Shop. Along the way they discover all is not right. Players will learn why some of the Toy Pokemon are fighting each other, and what the enemy Pokemon are plotting.
Pokemon Rumble U's players (up to four simultaneously) will travel through a variety of Pokemon locales including Sparkly Playland, Mysterious Forest, and Blue Sky Park as they battle all 649 Pokemon and giant bosses.