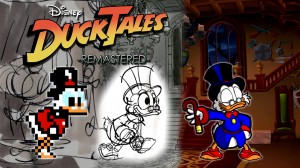 Yesterday I finally got my hands on DuckTales Remastered, and I must say two things: one, the game is great, and two, I accidentally discovered a way to unlock the original, 8-bit soundtrack without first beating the game.
When I first saw the Capcom logo and heard the classic Capcom tune, my instincts kicked in. There was a code for Street Fighter II on the SNES, where you enter Down, R, Up, L, Y, B at the Capcom logo to unlock different colors for your fighters. When I heard that familiar sound, like some sort of Pavlovonian experiment, I entered the same code, and to my surprise, heard a chime. Bear in mind, this was on the PS3, so the code was Down, R1, Up, L1, Square, X.
The code unlocked the original soundtrack right from the beginning. So, if you don't want to hear the remastered soundtrack (and shame on you if you don't), then you can start the game off with the classic tunes you know and love.
Enjoy!