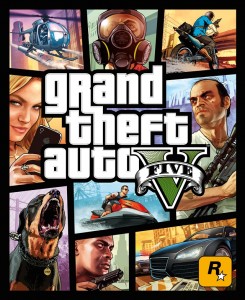 Grand Theft Auto V fever has infected the PlayStation Network!
Rockstar's open world game was added to the PlayStation Store last night along with three other titles: Hot Wheels: World's Best Driver (PS3), Capcom Fighting Evolution (PS3), and Real Boxing (Vita).
More details on all of these games can be found after the break (though I trust you're familiar with GTA5) and a full list of this week's new game add-ons and bonuses (including the addition of Ico HD and GTA: Liberty City Stories to the PS Plus Instant Game Collection) can be found at the PlayStation Blog.
PS3 Games
Grand Theft Auto V ($59.99)
Los Santos: a sprawling sun-soaked metropolis full of self-help gurus, starlets and fading celebrities, once the envy of the Western world, now struggling to stay afloat in an era of economic uncertainty and cheap reality TV. Amidst the turmoil, three very different criminals plot their own chances of survival and success: Franklin, a street hustler looking for real opportunities and serious money Michael, a professional ex-con whose retirement is a lot less rosy than he hoped it would be and Trevor, a violent maniac driven by the chance of a cheap high and the next big score. Running out of options, the crew risks everything in a series of daring and dangerous heists that could set them up for life.
Hot Wheels: World's Best Driver ($39.99)
Gear up for the most intense challenges only Hot Wheels can deliver! Pick your team, choose your ride and go for it! Get behind the wheel of thrilling Hot Wheels vehicles while joining the elite ranks of Team Hot Wheels. Compete in dozens of unique, fast-paced, re-playable challenges all highlighting the different driving styles of Team Hot Wheels: the speed record-breaking Green Team, the show-stopping stunts of the Red Team, the high-tech precision of the Blue Team and the world record-breaking jumps of the Yellow Team. Do you have what it takes to be the World's Best Driver?
PS2 Classics
Capcom Fighting Evolution ($9.99)
Warriors from the Street Fighter, Darkstalkers, and Red Earth universes clash for dominance in this arcade-style 2D fighter.
PS Vita Games
Real Boxing ($9.99)
Real Boxing is a stunning boxing simulation game powered by Unreal Engine 3. Journey from amateur to pro in one of the most comprehensive handheld sporting games ever created. Real-time deformation technology portrays every bone-crunching punch and jaw-shattering uppercut – the fight is on!