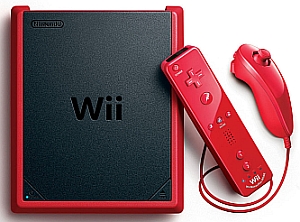 If you live in the US and have been wondering what to get for the holiday season, or if you've always been curious to see why the Wii was the best-selling video game console of the seventh generation, then your chance has finally arrived.
Nintendo has announced that the Wii Mini, previously only available in Canada and the UK, will be arriving in the United States this month. The Wii Mini is a more compact and affordable version of the Wii that is perfect for families or friends who want a more economic experience. The console features an awesome black-and-red color scheme, and is set for a retail price of $99.99.
Unlike the Wii, the Wii Mini has no Internet capabilities (which means no online play, no Virtual Console, and no WiiWare), but it can play every disc-based game in the extensive Wii library. To get new players started, the Wii Mini comes bundled with Mario Kart Wii, so families and friends can take advantage of the game's great local multiplayer instantly.