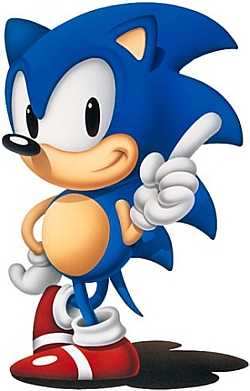 Do you love retro games? Then you should definitely check out this week's Nintendo Download.
Sega has added two more games to their 3D Classics collection: 3D Sonic the Hedgehog and 3D Altered Beast. Nintendo got in on the 3DS retro act as well with Donkey Kong 3. Finally, Konami brought the Super NES favorite The Legend of The Mystical Ninja to the Wii U eShop.
More information on all of these games (as well as Brilliant Hamsters! (3DS), Cloudy With a Chance of Meatballs 2 (3DS), and Hooked on Bass Fishing (DSi)) can be found after the break.
Wii U eShop
The Legend of The Mystical Ninja – In Super NES classic The Legend of the Mystical Ninja, Kid Ying and Dr. Yang must work together to overcome multiple levels and save Princess Yuki. The co-op multiplayer game contains intense worlds filled with side-scrolling levels, colorful graphics, stores for upgrading equipment and a host of minigames like the Quiz House and Horse Races.
3DS eShop
3D Sonic The Hedgehog – 3D Sonic The Hedgehog is the third of eight Sega 3D Classics making its way to Nintendo 3DS. Enhanced with 3D game play, you will race at lightning speeds across seven classic zones as Sonic the Hedgehog. Run and spin through loops as you collect rings and defeat enemies on your mission to save the world.
3D Altered Beast – 3D Altered Beast is the fourth Sega 3D Classic to make its way to Nintendo 3DS. Summoned from the dead by Zeus, shape shift into various beasts and fight off hordes of demons to rescue the captured Athena from the clutches of evil. In addition to its new 3D game play, 3D Altered Beast also supports local multiplayer and a new Random Transformation Mode.
Donkey Kong 3 – Classic arcade game Donkey Kong 3 introduces an exterminator named Stanley as he desperately tries to protect the flowers in his greenhouse from Donkey Kong. Armed only with a can of bug spray, Stanley must force Donkey Kong higher and higher into the greenhouse rafters.
Brilliant Hamsters! – Hamsters are brilliant and they appreciate being well cared for and loved. Take care of your Hamsters by feeding them, changing their outfits and earning new cages for them to live in. Play games with your Hamsters using the AR Card. Your Hamsters will reward you with hours of fun!
Cloudy With a Chance of Meatballs 2 – Cloudy with a Chance of Meatballs 2 brings all the food-filled fun and appetizing adventure of the hit movie's sweet sequel to gamers. Following the events of Sony Pictures Animation's original culinary comedy, Cloudy with a Chance of Meatballs 2 continues the exciting journey of inventor Flint Lockwood and his friends as they rush to save the world from his most infamous machine that is now creating food-animal hybrids — Foodimals!
DSiWare Shop
Hooked on Bass Fishing – Hooked on Bass Fishing is a fun and simple game that offers fishing enthusiasts the ultimate fishing experience!