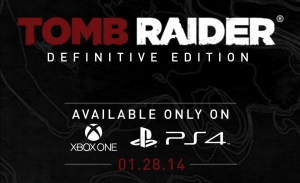 A banner advertisement that randomly appears on Spike TV's VGX Awards site has confirmed that Tomb Raider will be coming to the PS4 and Xbox One early next year in a "Definitive Edition."
The contents of the Definitive Edition are currently unknown, but its a good bet that the game's three multiplayer DLC packs ("Caves & Cliffs," "1939," and "Shipwrecked") will be included on the disc. A graphical bump to take advantage of the additional horsepower available in the next-generation systems is also highly likely.
Tomb Raider: Definitive Edition will be released on January 28 and the re-release's first trailer will make its debut during tonight's VGX Awards show broadcast at VGXLive.com.