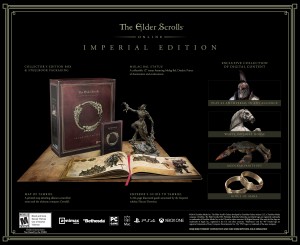 A few days ago, Bethesda announced an impressive voice cast for The Elder Scrolls Online. Today, they've unveiled an equally impressive special edition for the game.
The "Imperial Edition" will be available in both digital and physical formats. The $79.99 Digital Edition will feature a variety of in-game gear including:
Play as an Imperial: Become an Imperial and play in any Alliance. Gain unique bonuses, crafting styles, gear, and more.
White Imperial Horse: Summon this Imperial mount and journey through Tamriel with speed.
Mudcrab Vanity Pet: Explore Tamriel with a mudcrab pet scuttling along by your side.
Rings of Mara: Complete the Ritual of Mara with a friend and receive an experience bonus when you play together.
The Physical Edition has been priced slightly higher, $99.99, but it will include all the Digital Edition content as well as several goodies you can touch and feel:
Molag Bal Statue: A 12" statue featuring Molag Bal, Daedric Prince of domination and enslavement.
The Improved Emperor's Guide to Tamriel: A 224-page illustrated guide annotated by the Imperial scholar, Flaccus Terentius.
Physical Map of Tamriel: A 21" x 26" printed map detailing Alliance-controlled zones and the ultimate conquest: Cyrodiil.
Steelbook Packaging: A limited edition steel case decorated in the color of the Imperials.
Players who pre-order either edition (or the $59.99 Standard Edition) will also receive the Explorer's Pack, a special bit of DLC that includes a Scuttler vanity pet, four bonus treasure maps, the ability to play as any of the nine races in any Alliance, and five days of Early Access ahead of the game's April 4 launch. The Elders Scrolls Online will also be available for the PS4 and Xbox One in June.
And if you're desperate for more ESO, we've got a brand new cinematic trailer, "The Arrival," after the break.