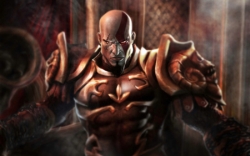 Sony is compiling the biggest hits of two of their most beloved characters for Vita owners this May.
The God of War Collection will be available on May 6 and it will bundle together Kratos' two PS2 outings: God of War and God of War II. The compilation will be priced at $29.99. And if you want, you can head over to the PlayStation Blog and watch as Sony Santa Monica's Cory Barlog loses his mind over the announcement.
Sony has also announced that The Sly Collection will be released for the Vita on May 27. It is currently without a price, but the collection will include all three of Sly's PS2 games: Sly Cooper and the Thievius Racconus, Sly 2: Band of Thieves, and Sly 3: Honor Among Thieves.
Cory Barlog had no comment on The Sly Collection.