Baseball video games were forever changed in 1988 when a trio of genre-defining titles were released for the NES just ahead of the World Series. That same year, Kirk Gibson of the Los Angeles Dodgers connected with one of the most famous postseason home runs of all time. While Gibson's heroics are reexamined every October, most gamers have likely forgotten about Bases Loaded, Major League Baseball, and R.B.I. Baseball. But the developers at MLB Advanced Media didn't forget. The league's technology group drafted a partner, Behaviour Interactive, and recently released R.B.I. Baseball 14, a new take on the classic franchise.
Platforms: PS3, Xbox 360 (Version Played)
Publisher: MLB Advanced Media
Developer: MLB Advanced Media, Behaviour Interactive
Genre: Baseball Sim From Back When Baseball Sims Wore Stirrups
Release Date: April 8, 2014 (PS3), April 9, 2014 (Xbox 360)
ESRB Rating: Everyone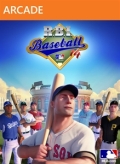 Like a well-worn glove, R.B.I. Baseball 14 feels like a game from another time. Its graphics are a tad prettier, but it could easily pass for a baseball game from 1988. The camera is positioned directly behind the catcher, looking up at the pitcher standing on the rubber at the top of the screen. The batter is near the bottom and has complete freedom of movement in the batter's box. A picture-in-picture feature allows players to keep tabs on runners on the corners. And though the players are no longer portrayed as rotund puffballs, everything else is pulled from 1988 as well.
This loving homage to a trio of 26-year-old games is both R.B.I. Baseball 14's greatest strength and its biggest weakness.
Developers stopped making games like R.B.I. Baseball 14 a long time ago. Flashy simulations, like Sony's MLB: The Show franchise, are all that's left. But R.B.I. Baseball 14 doesn't just use NES-era design cues for inspiration. It borrows them whole cloth and drops them into a brand new game. I'm all for using NES games as an inspiration for new sports titles, as I believe sports simulations are almost too complex nowadays. But most of the time, R.B.I. Baseball 14 doesn't feel like a new game created in an old style. No, most of the time, it feels practically primitive.
That's because R.B.I. Baseball 14 is missing a lot of the advances that have been incorporated into baseball sims over the years. In fact, the game is missing several features that developers managed to add to baseball sims in 1989. For example, the game features full MLB and MLB Player's Association cooperation, but there are only 16 players per team; there's no option for custom lineups; there's no stat tracking for players during Season play; a Player Profile that links stats with a Gamertag is incomplete (ironically enough, it excludes RBIs); there's no stamina indicator for pitchers; there's no dive/slide button; there's no speed burst button; throws from the outfield don't have any zip to them; and fielders move like the field is covered in molasses.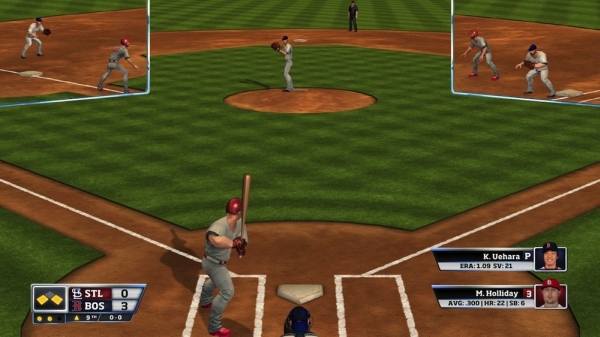 But the absolute biggest error is the baserunning system. We licked baserunning back in the late 90s when the N64 and PSone added two buttons to the standard controller setup. The N64's diamond-shaped C-Button layout provided a simple (and unambiguous) way for players to choose which baserunners they wanted to wave down the line and which they wanted to hold. R.B.I. Baseball 14 goes back to the dead ball era and requires players to hold down a baserunning button while pressing the direction they want to run on the control pad. Needless to say, this is an awkward setup that was jettisoned by most developers the first chance they got. I realize that MLB AM and Behaviour Interactive were trying to create an authentically retro game, but baserunning in video games from 1988 was a mess, and bringing it back in 2014 is a baffling choice.
When R.B.I. 14 wasn't making me fight with the controller to get the baserunners to do what I wanted, it was prone to some strange glitches. For example, in one of the first games I played, it was bases loaded with one out. I took off for home while the batter laid down a perfect bunt along the third base line. It was a textbook suicide squeeze. The runner easily crossed the plate, but I received no credit for the run. And for some reason, the runner that was on second going for third turned around and went back to second while the runner that was on first stayed put. So both were tagged out because the batter had no where to go. A few games later, I lost in the bottom of the ninth on a walk-off single and the game crashed completely, so I had to quit to the Xbox Dashboard. The crash ended up wiping out the results of the last two games of my season.
And I can't even tell you how many times balls that hit the outfield wall rolled under it for a Ground Rule Double…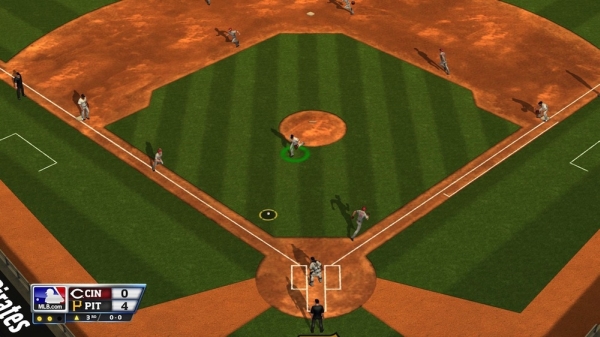 Even with all of its problems, R.B.I. Baseball 14 does do a lot to resurrect a style of sports sim that you don't see anymore. As promised, games really do fly by in 20-30 minute chunks. The gameplay is quick and breezy, perfect for someone who just wants to get nine innings in before work or whenever they can spare a bit of time. And the game's comically exaggerated style looks great. It feels very 1988, yet it also feels very modern. I like it.
The other thing R.B.I. 14 gets right is pitching. I love the pitching controls. There's no option to select a fastball or a curveball. The player just presses the pitch button and then uses the analog stick to control the ball's movement like they've got The Force… just like the old days.
To sum it up with a little baseball jargon, R.B.I. Baseball 14 is clearly a five-tool player that needs a bit of seasoning in the minors. The game is not quite ready for the big leagues (or your gaming dollar) just yet, but I believe MLB AM and Behaviour Interactive have built a solid foundation for their next retro-styled baseball sim. And I also believe there ought to be a constitutional amendment outlawing Astroturf and the designated hitter.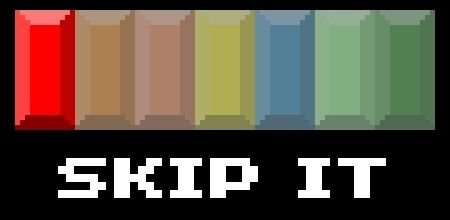 Review Disclosure: A review copy of R.B.I. Baseball 14 was provided by MLB Advanced Media for the purposes of this review.