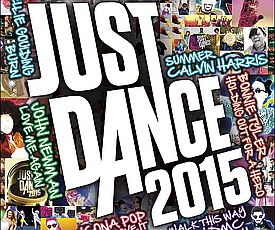 There's all kinds of fighting available in this week's Xbox Games Store update. Today's releases include kung fu fighting, dance fighting, and zombie dance fighting. OK, there's no zombie dance fighting in The Walking Dead Season 2, but here's what you can find on the Xbox Games Store as of today:
Fantasia: Music Evolved (Xbox One, Xbox 360) – Harmonix is back with a new Kinect-powered musical adventure… and this one is based on Disney's Fantasia.
The Legend of Korra (Xbox One, Xbox 360) – Activision and Platinum Games have teamed up to release the first game based on the popular animated series.
Just Dance 2015 (Xbox One, Xbox 360) – Ubisoft's popular dancing franchise is back for another encore. Now with even more Ariana Grande.
The Walking Dead Season 2 (Xbox One) – The second season of Telltale's post-apocalyptic saga makes the leap to the Xbox One.
F1 2014 (Xbox 360) – Codemasters is back with another Formula One simulation.
More information about all of these games (and many more) can be found after the break.
Xbox One Games

Fantasia: Music Evolved ($59.99)
Disney Fantasia: Music Evolved is a breakthrough musical motion video game inspired by Disney's classic animated film Fantasia. In the game, players enter the magical realms of Fantasia, selected by the legendary sorcerer Yen Sid, to hone their musical and magical prowess as his new apprentice. Disney Fantasia: Music Evolved takes players on an interactive and immersive motion-controlled journey through worlds of music and magic.

The Legend of Korra ($14.99)
An ancient evil force has emerged from the portals and threatens the balance of both worlds! Only the Avatar stands a chance in defeating this new threat!

Just Dance 2015 ($49.99)
The world's #1 dance game is back with hot moves and new features! Just Dance 2015 gives the power to the community: challenge your friends, score on their performances and even be part of the game! Get ready for this year's hit songs and quirky dance moves that have something for everyone.

The Walking Dead Season 2 ($24.99)
The sequel to 2012's Game of the Year continues the story of Clementine, a young girl orphaned by the undead apocalypse. Left to fend for herself, she has been forced to learn how to survive in an unforgiving world. Experience what it's like to play as Clementine, meet new survivors, explore new locations and make gruesome decisions in this five-part game series of choice and consequence.

Xbox 360 Games

Fantasia: Music Evolved ($49.99)
Fantasia: Music Evolved is a breakthrough musical motion game where players embark on an interactive and immersive motion-controlled journey through fantastical worlds of music and magic. Players will control music from some of the world's biggest acts, from over 25 leading artists including chart-topper Bruno Mars, rock royalty Queen and electronic DJ and producer AVICII. Using intuitive motion controls and natural, free-flowing gesture-based gameplay, players will control the musical flow of these hits, unlocking the power to transform the music and living world.

The Legend of Korra ($14.99)
An ancient evil force has emerged from the portals and threatens the balance of both worlds! Only the Avatar stands a chance in defeating this new threat!

Just Dance 2015 ($39.99)
The world's #1 dance game is back with hot moves and new features! Just Dance 2015 gives the power to the community: challenge your friends, score on their performances and even be part of the game! Get ready for this year's hit songs and quirky dance moves that have something for everyone.

F1 2014 ($44.99)
Feel the power of new turbocharged Formula One cars in the most accessible Formula 1 video game yet, including a new driver evaluation system to adjust the game to your level, shorter career options and new Very Easy mode. F1 2014 features all the cars, drivers and circuits from the 2014 FIA Formula One World Championship including new tracks in Russia and Austria.

The Voice ($39.99)
The Voice video game brings all the excitement of the hit TV show to your living room. From the Blind Auditions, to the Battle Rounds, all the way to the Finale, experience the TV show with the ultimate goal of being named "The Voice."