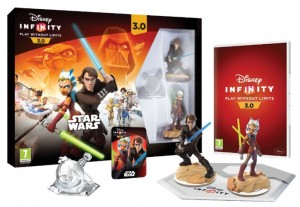 Ever since Disney Interactive added Lightsabers to Disney Infinity, fans have been waiting for the first full expansion that takes place in a galaxy far, far away. Today, a product listing on Saturn, a German retailer, seems to confirm we'll actually get to play it this year.
According to Saturn, Disney Infinity 3.0: Star Wars will be released for the PS3, PS4, Wii U, Xbox 360, and Xbox One on August 20. An image of the box shows that Anakin Skywalker and his Padawan, Ahsoka Tano, will be the two pack-in figures. Other characters depicted on the packaging include Obi-Wan Kenobi, Yoda, Darth Vader, Darth Maul, Princess Leia, C-3PO, and R2-D2.
It's unlikely this product listing will stay active for very long, but Disney Interactive will probably make an announcement officially confirming the existence of Disney Infinity: Star Wars in the lead-up to this year's E3 Expo.