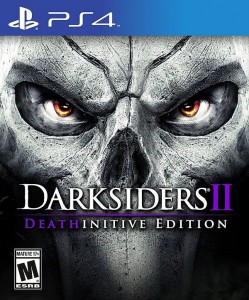 Back in February, Amazon posted a listing for a Darksiders II: Definitive Edition on the PS4. Rather than deny, deny, deny, the publisher confirmed that a current-generation remaster of the cult favorite was indeed in the works.
Today, Amazon has reposted their Darksiders II: Definitive Edition listing with the game's proper title… Darksiders II: Deathinitive Edition. Yeah, that sounds about right.
The listing has a placeholder price ($39.99) and release date (December 31, 2015) for the game, but both of those will likely change between now and the real release date. However, the cover, and the "Deathinitive Edition" subtitle, are surely here to stay. As of right now, Amazon is only offering the game for sale on the PS4 (just like in February) and there's no word yet if it'll also be released for the Xbox One.
Nordic Games originally purchased the rights to the Darksiders franchise from THQ in 2013. They've since re-released Darksiders II and its predecessor on the PC, PS3, and Xbox 360 as part of the Darksiders Collection and announced plans to develop new games in the series last year. However, aside from saying they're "committed" to the franchise, all discussion of Darksiders III has gone silent for the time being.