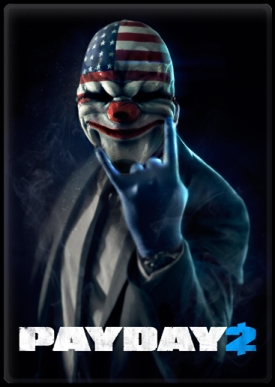 We interrupt your regularly scheduled E3 extravaganza to bring you this week's PlayStation Store update.
Just two games were added to Sony's digital storefront today. First up is Overkill's Payday 2: Crimewave Edition, an enhanced PS4 port of their heist simulator sequel, which was originally released for the PS3 in 2013. Also available this week is Nova 2001, an arcade shooter from 1983, and the latest addition to the Arcade Archives series.
Look below for more information on both games and don't forget to visit the PlayStation Blog for a rundown of this week's new game add-ons and discounts.
PS4 Games

Payday 2: Crimewave Edition ($49.99)
Payday 2: Crimewave Edition is an action-packed, four-player co-op shooter where you rob banks and get paid. The Crimewave Edition includes an enhanced graphic engine. Up to four friends cooperate on the hits and as the crew progresses the jobs become bigger, better, and more rewarding. Rebuilt visuals bring heisting into 1080p resolution. See every bank note fly & feel every bullet blast past your head in full HD.

Nova 2001 ($7.99)
Nova 2001 is a shooting game that was released from the UPL in 1983.
Players control a fighter which can shoots in all directions. Its main purpose is to continue to defeat a variety of enemies that appear in each stage.