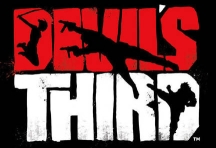 As promised, Nintendo has quietly confirmed that Devil's Third will be available for the Wii U this Fall. The consolemaker still plans to publish the title, which will be available as a retail disc and as a digital download through the Wii U eShop.
"Devil's Third delivers a unique combination of shooting and melee combat to provide Wii U owners with a fresh action-oriented experience," said Director Tomonobu Itagaki. "We've been working hard on the game and can't wait for fans to get their hands on it later this year."
Devil's Third is an "over-the-top, third-person action shooter" that melds "modern military weaponry with ninja-style swordplay and melee combat." Players will take control of Ivan the Terrible, an anti-hero who hunts down terrorist cells with sword-in-hand after a series of satellite explosions renders the world's tanks and jets useless.
In addition to the game's Wii U launch, developer Valhalla Game Studios will self-publish a free-to-play version of the game's multiplayer mode on the PC. It'll be available to download in North America after the Wii U version, and internationally in September.
Speaking of international audiences, they'll get to play the Wii U version of Devil's Third much earlier than American players. Nintendo will publish the game in Japan on August 4 and throughout Europe on August 28.