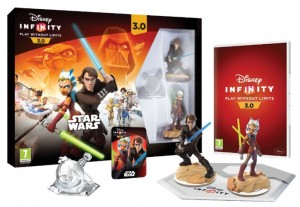 Today's Nintendo Download is a big one for the Wii U as a pair of highly-anticipated titles and another pair of Nintendo classics are now available to download (or will be soon):
Available on August 30, Disney Infinity: Star Wars will bring the Disney Infinity formula to the Star Wars universe, including a brand new series of figures.
But available today is Runbow, a "frantic party-platforming game" for up to nine players that will also include a huge number of guest characters from Nintendo's ever-expanding slate of "Nindies."
Rounding this week's new releases are Sin & Punishment and Sin & Punishment: Star Successor, a beloved pair of rail shooters that are available to download on the Wii U for the first time.
More information on all of these games (and a few others) can be found after the break.
Wii U eShop

Disney Infinity: Star Wars – Disney Infinity 3.0 Edition now welcomes Star Wars to the ever-growing collection of Marvel, Disney, and Disney-Pixar characters, stories and worlds. Together, new heroes can join forces with characters from previous editions and embark on adventures as big as your imagination! (Available August 30)

Runbow – Arriving exclusively on Wii U consoles, Runbow is a frantic party-platforming game in which the world transforms with swipes of color. Enjoy five chaotic local and online multiplayer modes (up to nine players), along with two single-player modes that will test the skill and mind of any challenger.

Sin & Punishment – Legendary studio Treasure delivers a high-energy thrill ride in this Nintendo 64 classic. On a future Earth starved for resources, a new species engineered for consumption has mutated into monsters. Run, gun and slash your energy sword through level after level of nonstop destruction to end their reign of terror.

Sin & Punishment: Star Successor – Take aim, and blast your way through a post-apocalyptic world packed with nonstop arcade-shooter action in the Sin & Punishment: Star Successor game, the Wii sequel to the Japanese Nintendo 64 cult classic. As Isa or Kachi, you'll shoot everything in sight as you're bombarded with foes determined to hunt you down.

Brave Tank Hero – Paradise City has been invaded, and it's up to you, brave soldier, to help take the city back! Complete over 50 action-packed Missions in this 3D action tank game! You'll be able to power up your tank to take on the increasingly difficult enemies! Don't forget to use your radar to plan tactical attacks against the enemy! You can also replay Missions to get better rankings to help power up your tank! Choose from three different types of tanks to take on the enemy, including huge and fearsome boss tanks! Defeat the invading forces to return the "Paradise" back to Paradise City!

FullBlast – Many have tried and lost their lives … it seemed that the war against these horrible things would be a cakewalk, but this is taking more than expected, humanity needs you! You're our hero, kill them!

Pixel Slime U – Pixel Slime U is a unique auto-platformer that challenges you to get the lowest score possible. Jump, twist, and glide your way through 40 challenging levels while trying to avoid death. This game will keep you coming back while you compete with others on Miiverse to have the lowest score.

3DS eShop

Gotcha Racing – Enjoy the fast-paced action of a top-down racing game, but with a twist! All of the parts you use to make your car are dispensed by Capsule Machines! Therefore, when you start racing, you won't have the greatest car, but as you progress and gain access to better Capsule Machines, your car will become the envy of the racing world! The game uses both screens together when you race, so the tracks will appear huge on your Nintendo 3DS, and even more so on your Nintendo 3DS XL!