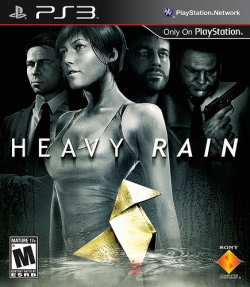 During this year's E3 Expo, Sony quietly confirmed that Quantic Dream's Heavy Rain and Beyond: Two Souls would be re-released for the PS4 sometime in the near future.
Not much was mentioned about either re-release, though Sony did say that the games would be sold on store shelves (in a two-game bundle) and through the PlayStation Store (as individual downloads). A "Chronological Mode" will be added to Beyond, and both games will also receive a graphical overhaul.
And yesterday, we learned that a release date for the re-releases will be announced soon:
Hi everyone, Heavy Rain and Beyond: Two Souls PS4 release dates will be revealed soon now. Thank you for your patience!

— QUANTIC DREAM (@QUANTIC_DREAM) September 23, 2015
How soon is soon? Nobody's quite sure. But Quantic Dream is also working on a brand new game for the PS4, which isn't connected in any way to the brilliant tech demos (Kara and The Dark Sorcerer) they've showcased for the public in recent years. I'm sure we'll hear more about that project "soon" too.