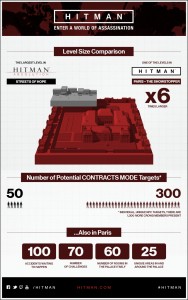 It looks like IO Interactive's ambitious release plan for the next Hitman game, simply titled Hitman, has proven to be a bit too ambitious. The developer confirmed earlier this week (via the Hitman Development Blog) that the game will no longer be released this December as originally planned. Instead, Hitman will be released for the PC, PS4, and Xbox One in March 2016.
IO Interactive is positioning Hitman as an episodic game… but with a twist. Instead of giving players the option purchase individual episodes at regular intervals, the developer wants to sell Hitman for full price upfront and release a number of free updates throughout the year. Part of the reason for the game's delay is to ensure that more content is available at launch:
[W]e're going for a new release model where we put out a good chunk of the game when it begins and then release the remaining locations over time. We want to make absolutely sure you all get the best possible experience when you join, so we've made the difficult decision to move the initial release date to March 2016. These few extra months will mean we can add more to the launch content of the game, more than we had originally planned, and then follow with a tighter frequency of updates, which ultimately will create a better game for everyone. And in the end, that's what we're all looking for.
To help fans visualize the scope of their latest project, IO Interactive also created an impressive infographic to better show off the size of Agent 47's new playground. The gray layer in the infographic represents "Street of Hope," the largest level in Hitman: Absolution. Meanwhile, the red layer directly underneath shows "Paris: The Showstopper", a Hitman locale that's roughly six times larger. This mission will also give players the option of 300 potential Targets (versus 50 in Absolution), and more than 25 unique areas to explore.
IO Interactive will announce more details about how the size of Hitman's world will affect Agent 47 next week. The team also plans to reveal more details about the game's episodic release schedule at the same time.