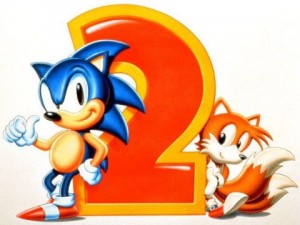 It's a big week for 3DS gamers as the latest Nintendo Download leans pretty heavily on the company's handheld.
Chibi-Robo! Zip Lash brings the popular robot back for another adventure… this time in a side-scrolling platformer on the 3DS. Using his plug as a whip, Chibi-Robo will have to "grapple and zip through tricky, trap-ridden corridors." Available to download tomorrow, a Chibi-Robo Amiibo figure will also be in stores this Friday, which should help with some of the grappling and zipping.
Also available this week is 3D Sonic the Hedgehog 2, a remake of a game that is considered by many to be the greatest Sonic game of all time and the greatest game ever released for the Genesis. If you've forgotten why we all used to love Sonic, his second side-scrolling adventure will make it all clear.
Rounding out this week's big 3DS bonanza is The Legend of Legacy, a new RPG from Atlus that'll be available on Tuesday, October 13. In The Legend of Legacy, seven characters embark for a mysterious in search of "glory and treasure." Sounds about right for an Atlus RPG.
But don't think Nintendo forgot the Wii U this week. The company's living room console is now home to two new Nindies… Race the Sun, an arcade racer; and Whispering Willows, a ghostly adventure game.
More information on all of these games (and a few other new releases) can be found after the break.
3DS eShop

Chibi-Robo! Zip Lash – Our tiny hero, Chibi-Robo, is geared up to save the world's resources from invading aliens in his own HUGE platformer! Whip and swing Chibi-Robo's powerful plug and cord to grapple and zip through tricky, trap-ridden corridors. (Available October 9)

3D Sonic the Hedgehog 2 – Classic game Sonic the Hedgehog 2 is here … and in 3D! Sonic is ready to save the day, and this time he's got help from his friend Tails. But don't forget to take some time off from saving the world to play against your friends in two-player "Vs" and "Co-Op" modes using Nintendo 3DS local play.

The Legend of Legacy – A mysterious island emerges, prompting adventurers to head toward it in hopes of obtaining glory and treasure. Join the seven characters in The Legend of Legacy and unravel the mystery of Avalon's past. (Available October 13)

Goosebumps – The walk home from school today is going to be a lot spookier than usual… Your sleepy neighborhood's been overrun by monsters! Werewolves prowl the woods, Gnomes roam underfoot, and scarecrows walk at midnight. But these aren't ordinary monsters—they're R.L. Stine's famous Goosebumps monsters, released from their books and looking to wreak havoc! You'll need to use your wits to investigate the surroundings, puzzle out clues, and outsmart the monsters before it's too late! (Available October 13)

The Smurfs – After a walk in the forest, the Smurfs come back to find their village destroyed. Gargamel has accidentally released a dragon, transformed by one of his mysterious experiments! Will you be able to find an antidote and cure the dragon to restore peace? Papa Smurf is counting on you to save the day! (Available October 13)

Wii U eShop

Race the Sun – You are a solar-powered craft. The sun is your death timer. Hurtle towards the sunset at breakneck speed in a futile race against time. Delay the inevitable by catching speed boosts which reverse the setting sun – if only for a moment. Race the Sun is inspired by arcade games of the past with a focus on high scores, short game sessions, and pure fun mingled with nerve-wracking tension. The rules are simple: don't crash, stay in the light, and don't slow down!

Whispering Willows – In Whispering Willows, you take on the role of Elena, a determined young girl with the extraordinary ability to project her spirit outside of her body. In her spectral form, Elena can interact with the benevolent spirits and wicked wraiths that used to dwell within the walls of the sinister Willows Mansion – lost souls, stuck in time and space, who hold the secrets that Elena will need to traverse the terrifying old manor. Players need to make use of Elena's corporeal and ethereal forms to overcome obstacles, solve the riddles of the mansion's enigmatic specters, and find Elena's lost father.

Pocky & Rocky With Becky – It's up to Pocky, Rocky the Raccoon and Becky to set out on a fantastical and dangerous journey to seal the Hydra Dragon once more. Choose one of three selectable characters in this Game Boy Advance adventure, and collect magical items and a variety of power-ups that enhance each character's unique spells and abilities.

Perpetual Blast – You are on a mission to destroy the radioactive containers littering the solar system. Master controlling your spacecraft in the zero-g environments and use your ship's laser cannon and missiles to destroy all containers as fast as possible.