Life Is Strange will be released in a retail Limited Edition in January 2016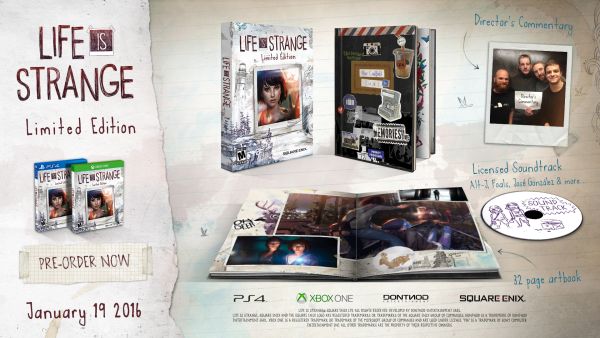 Square Enix and Dontnod Entertainment have announced that Life Is Strange will get a retail release early next year. The Life Is Strange Limited Edition will be more than just a compilation of the game's five episodes, it'll also come packed with a 32-page artbook, a two-disc soundtrack, and a Director's Commentary. In addition to the full score, the soundtrack will also feature 14 licensed tracks from bands like Alt-J, Amanda Palmer, Bright Eyes, and more.
Luc Baghadoust, a Producer on Life is Strange, is very excited for the Limited Edition: "The response to Life is Strange really has blown us away! To be able to share that experience with our fans in a traditional boxed format is something we're really excited about and the decision to include the extra items for the Limited Edition is a direct response to fan requests."
The Life Is Strange Limited Edition will be released for the PS4 and Xbox One on January 19, 2016. You can find a full tracklist for the soundtrack after the break.
Life Is Strange Soundtrack
1. Syd Matters – "To All Of You"
2. Jose Gonzales – "Crosses"
3. Angus & Julia Stone – "Santa Monica Dream"
4. Sparklehorse – "Piano Fire"
5. Alt J – "Something Good"
6. Local Natives – "Mt. Washington"
7. Bright Eyes "Lua"
8. Mogwai – "Kids Will Be Skeletons"
9. Amanda Palmer (Featuring Brian Viglione) – "In My Mind"
10. Message To Bears "Mountains"
11. Breton – "Got Well Soon"
12. Mud Flow – "The Sense of Me"
13. Foals – "Spanish Sahara"
14. Syd Matters – "Obstacles"
It's Dangerous To Go Alone! Read This.
A Commenter Is You!