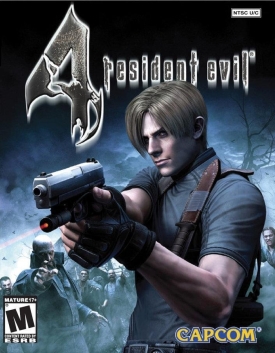 Resident Evil 4 is getting yet another re-release as Capcom added Resident Evil 4: Wii Edition to the Wii U eShop today. Leon Kennedy's search for the President's daughter should be playable with the Wii U GamePad (though Nintendo didn't mention it in their announcement), and it also includes the Ada Wong-starring "Separate Ways" campaign. Just watch out for those zombies.
Also available to download on the Wii U today is Shutshimi, a shooter that stars "a musclebound fish with memory problems." I guess it's a good thing that each level is only ten seconds long.
Finally this week, in case you missed it last year, a demo of the excellent Typoman is now available to download on the Wii U eShop. If the trial version of the title piques your interest, you can upgrade to the full game for a discounted price for the next two weeks as Typoman is 15% off until February 18.
More information on all of these games (and several other new releases) can be found after the break.
Wii U eShop

Resident Evil 4: Wii Edition – The enhanced Wii console version of one of the most celebrated action games ever made is heading to the Wii U console! Leon S. Kennedy is a U.S. agent with a top-secret mission: to rescue the president's daughter, who has been kidnapped by a mysterious organization. Explore a town that is overrun by monstrous beings. Use the Wii Remote controller to aim, fire, slash and elude enemies. Also play as Ada Wong in "Separate Ways," a prelude to the events of Resident Evil 4.

Shutshimi – Shutshimi, a shoot-'em-up game starring a muscle-bound fish with memory problems, is available now on the Wii U console. This family-friendly game features a chaotic four-player local co-op mode and Off-TV game play.

FreezeMe – FreezeMe is a A 3D platformer in the style of the 90s-era but wait there is a twist! The main character, R, has one special tool… a camera around her neck. This camera allows her to literally freeze the objects she photographs. This brown-eyed moppet with a camera around her neck is hot on the trail of her best friend, M, who has been abducted by the dastardly Fat the Cat that longs to create what he describes as a "Dog-Free-World."

Peg Solitaire – In Peg Solitaire, you are presented with a series of puzzles that will test your skills. Players must move their pegs around the game board, "jumping" other pegs to remove as many as possible. This exciting classic game dates back to the 1600's, enjoyed by many generations.

3DS eShop

Alphadia – Unleash the Energi skills and engage in turn-based battles in an epic JRPG that harks back to the best in classic gaming. It has been almost a century since the end of the Energi War. Yet despite the armistice agreement signed between opposing sides, the Schwarzschild Empire has once again begun plotting world domination as it starts to conquer and occupy one nation after another. It is during this time that Ash and Karim, two residents of a small town on the frontier, rescue a young woman and her escort as they are being pursued by foreign soldiers. But who is this mysterious girl and what fate is in store for Ash and those with him as they attempt to help her fulfill her mission…? Find out as this dramatic story begins to unfold!