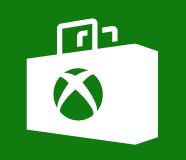 We've got three new additions to the Xbox Games Store to talk about today, and all of them have a decidedly old school vibe.
Q*Bert Rebooted: The Xbox One @!#?@! Edition (Xbox One) is a "re-imagined" version of the classic arcade game, but players are still expected to flip the board to a single color by hopping from cube to cube. This Xbox One-exclusive edition will include "enhanced gameplay," five new playable characters, and a soundtrack from EDM artist EnV.
In Space We Brawl: Full Arsenal Edition (Xbox One) isn't based on an older title, but it is a multiplayer twin-stick shooter where players battle it out with their friends to see who can be the last one standing. Offering more than 240 spaceship combinations, players will be able to customize their on-screen avatar to their hearts content.
Finally this week, D/Generation HD (Xbox One) is a remake of Robert Cook's isometric puzzle game from 1991. Dipping heavily into the cyberpunk canon, players will control a "jetpack courier" as he attempts to bring down an evil corporation and escape with his life.
More information on all of these games can be found after the break.
Xbox One Games

Q*Bert Rebooted: The Xbox One @!#?@! Edition ($9.99)
One of the most critically acclaimed and commercially successful arcade games of the 1980s is back in its Classic pixel perfect 2D form, and a re-imagined Rebooted version with state of the art 3D gameplay and graphics that remain faithful to the original concept. Both versions are exciting twitch games requiring keen puzzle solving skills and logic. Exclusive to Xbox One: Enhanced gameplay, five new playable characters, and an all-new soundtrack from EDM superstar EnV!

In Space We Brawl: Full Arsenal Edition ($7.99)
In Space We Brawl is a frantic couch twin-stick shooter in which you challenge friends in fast-paced space battles for up to four players. Choose a spaceship and a weapon: there are more than 240 available combinations! Will you humiliate your friends with a fast ship? Or will you choose shields and armor instead? Prove your skill with laser cannons and plasma swords, flame launchers, guided missiles… Don't be afraid to experiment! With its single player missions, the Academy will turn you into a true ace. Eight different areas of the galaxy await, each with its own dangers: black holes, exploding asteroids, even alien nests! The local multiplayer of In Space We Brawl is both exciting and unforgiving. Play in a free-for-all or in teams, you can even put a bounty on your rivals' heads! Are you ready to brawl?

D/Generation HD ($24.99)
In the near future, a company called Genoq has developed a range of bioweapons that have escaped into the company's headquarters. Your character is a jetpack courier that has to deliver an important package to Genoq's leading researcher, Derrida, and is oblivious to the danger until the doors lock behind him. He has to fight his way through ten floors of grenade turrets, electrified panels, laser fences, and all the mutant bioweapons to deliver his package and find out how to escape. D/Generation was an immensely popular isometric puzzle game written in 1991 by Robert Cook for PC/DOS and ported by John Jones-Steele to Windows and Amiga/CD32. D/Generation HD has been recreated from the original source code and contains all the original features and puzzles but in glorious HD graphics.