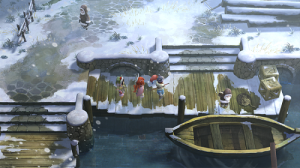 Square Enix's Project Setsuna is beginning to take shape, with a new title (I Am Setsuna) and a tentative release date (this Summer). The publisher also revealed a single new screenshot for the RPG, which will be partially inspired by the classics of yesteryear, including the battle system from Chrono Trigger:
Led by director Atsushi Hashimoto, Tokyo RPG Factory aims to capture the narrative depth, impactful storytelling and masterful character development inspired by the golden era of Japanese role-playing games and bring them to current hardware and technology. With a battle system inspired by the classic hit Chrono Trigger, I Am Setsuna brings back authentic RPG gameplay, beautiful art design and a sorrowful story to the new generation.
I Am Setsuna is in development for the PC and PS4 as a digital download, and a teaser website is now open for your perusal at IAmSetsuna.com.