There was no Cartoon Network when I was a little kid. Instead, a sugary haze of Transformers, Teenage Mutant Ninja Turtles, and G.I. Joe filtered into my home via regular broadcast channels on Saturday mornings. And after they turned the day over to programming for adults, I'd turn my attention to nearly six hours of non-stop Looney Tunes on TNT.
I loved the Looney Tunes, but occasionally, TNT programmers would slip in an older 20s or 30s short that didn't have anything to do with Bugs Bunny, Daffy Duck, or Foghorn Leghorn. I never knew what to make of those earlier attempts at animation, but I always felt like there was something unsettling about them. Brothers Chad and Jared Moldenhauer, of Studio MDHR, saw the same sinister edge in these cartoons, and they tapped directly into it for their upcoming side-scrolling shooter, Cuphead.
Platforms: PC, Xbox One (Version Played)
Publisher: Studio MDHR
Developer: Studio MDHR
Genre: Old (Like Really Old) School Platform Shooter
Release Date: TBA 2016
ESRB Rating: Rating Pending

Just like those old Fleischer cartoons, characters in Cuphead sway and bounce to a soundtrack that only they hear. And everything has big expressive eyes with just a hint of devilishness behind them, which makes sense when you think about it, because Cuphead is also known as "Don't Deal with the Devil." The game follows the titular cupheaded hero and his loyal sidekick, Mugman, as they fight for (and presumably, against) Old Scratch in a side-scrolling shoot 'em up that was directly inspired by Contra III: The Alien Wars.
Old cartoons… side-scrolling shooters… was Cuphead made expressly for me?
Probably not, but I did get to spend plenty of time with Cuphead at this year's PAX East expo. Walking up to the demo unit, players were encouraged to spend a few coins at the in-game Store. There, they could purchase extra health, homing bullets, a Spreadshot gun, a supercharged power meter, or a Smoke Dash. Don't skimp on the good stuff, because you'll need all these items (more will be available in the final game) to complete the ridiculously hard battles you'll find in Cuphead.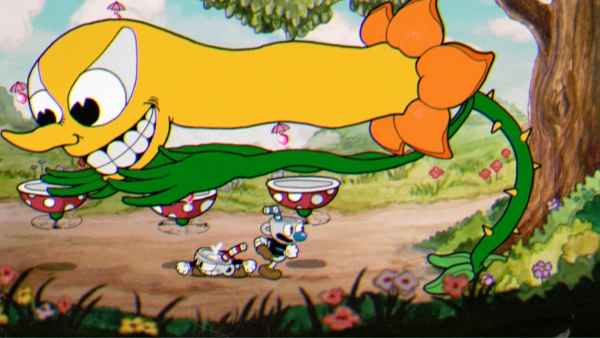 After paying the one-eyed pig (let me emphasize, not a euphemism), players will explore an overhead World Map looking for bosses to fight in an almost neverending Boss Rush-style quest. Several bosses dotted the demo, including a deranged carrot, a slimy ball, and a shape-shifting prop plane (who you fought by becoming a flying ace yourself). The fluid animation during these fights is beautiful and really captured the essence of the old cartoons. Actually, if you removed the HUD, the average person might have difficulty distinguishing between the two, because the art design on Cuphead is just that good.
Cuphead's shooting mechanics are extremely precise, and are almost as equally impressive an imitation of Contra III as the animation is of Fleischer cartoons. Players will get a few defensive maneuvers too, such as a Parry and a Dash, but even Easy Mode keeps the pressure on, though a well-timed Parry can save a recently-deceased partner. The control scheme is solid, and players will never feel that a fight went poorly due to a missed input. Nope, it's solely going to come down to the fact that Cuphead is unrelentingly difficult… say it with me… just like Contra III.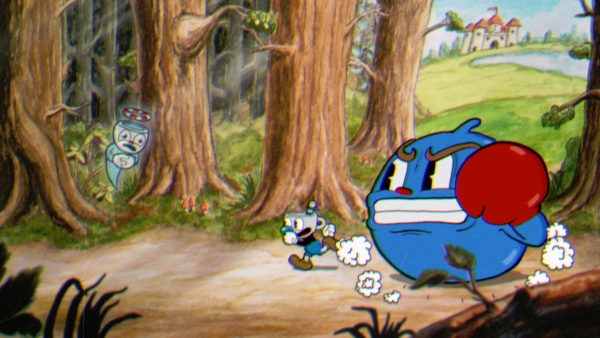 Boss Rush games usually tend to be on the short side, though I really enjoyed my fights against the deranged carrot and the slimy ball. But the flying level was something else entirely. A screen-filling competitor to Betty Boop threw tornadoes and other projectiles at me while I struggled to dodge and weave through the barrage. And each transformation (first a bull, then a Greek god, then finally the moon) was tougher than the last. If the final game has this kind of variety and challenge, then I am sold.
Side-scrolling shooters may have become a niche genre over the last two decades, but a renaissance could be right around the corner. And something tells me that the Moldenhauer brothers, and Cuphead, will be the ones leading the charge.
Cuphead will be available for the PC and Xbox One sometime this year.