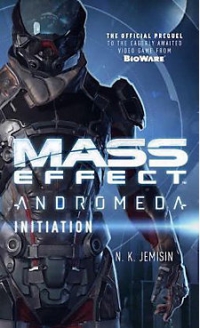 EA and BioWare will help produce a quartet of novels that will bridge the gap between the events of Mass Effect 3, and those of its upcoming sequel, Mass Effect: Andromeda.
The novels were outed by a "Rights Guide" from Titan Books, and the first, Mass Effect Andromeda: Initiation, will be written by N.K. Jemisin and released this August. Jemisin is an award-winning fantasy author, and her first novel, The Hundred Thousand Kingdoms, was nominated for a Hugo, a Nebula, and a World Fantasy Award.
Titan plans to sell the novel series to readers by promising to "answer the many questions fans have been asking":
While earlier Mass Effect games focused on the defense of the Milky Way galaxy, with humans pitted against a race of ruthless mechanical invaders known as the Reapers, the new story will take the game in a dramatic new direction and is set in a new region of space, with a new and deadly enemy.

The novels will act as prequel and sequels to the events in the games and will become part of the overarching Mass Effect saga. They will focus on key characters and answer the many questions fans have been asking.
The series will continue with Novel 2 in March 2017 and Novel 3 in September 2017, though an author wasn't announced for either book. The concluding volume, Novel 4, will be written by BioWare's Mac Walters, and will be published in March 2018.