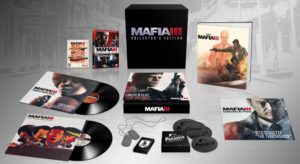 Mafia III is getting a groovy Collector's Edition this Fall that includes not one, but two, soundtrack albums on vinyl.
The first album features a small sampling of Mafia III's full in-game soundtrack, but the inclusion of The Rolling Stones's "Paint It Black," Jimi Hendrix's "All Along the Watchtower," and The Animals's "The House of the Rising Sun" is certainly representative of the decade. A complete track listing for the soundtrack can be found after the break. Meanwhile, the second album will present "the flavor" of Mafia III's New Orleans-like setting to listeners with Jesse Harlin and Jim Bonney's score.
But don't worry, even if you're not a vinyl aficionado, the Mafia III Collector's Edition will include a large batch of goodies:
Mafia III Collector's Edition

Exclusive Two-LP Vinyl Soundtrack and Score Collection: One disc features some of the 60s' greatest hit makers and the artists that inspired them – and this is just a small sampling of the 100-plus song in-game soundtrack. This eclectic mix of Rock, Rhythm and Blues, and Pop, all colliding against a backdrop of war, civil unrest, and sweeping social changes that defined the 1960s.
Exclusive Collectible Art Prints: Two frame-worthy prints from Playboy and the Alberto Vargas Estate representing the vast collection of art for players to discover in-game.
The Art of Mafia III Collectible Art Book: A 56-page book examining the creation of New Bordeaux, the new world fashioned after New Orleans in the summer of 1968.
Lincoln Clay Replica Dog Tags: 1960's US military issue replicas, these are the tags of a combat-hardened Vietnam vet fueled by the need for military-grade revenge against the Italian Mafia
Faux Leather Establishment Drink Coasters: Take a break from your revenge spree with a drink – and park them on these coasters. They represent the Paradiso Casino and Sammy's in-game criminal establishments.
Mafia III will be released for the PC, PS4, and Xbox One on October 7.
Mafia III Vinyl Soundtrack (SIDE ONE)
1. Lightnin' Hopkins – "Black Ghost Blues"
2. The Rolling Stones – "Paint It Black"
3. Otis Redding & Carla Thomas – "Tramp"
4. The Shadows of Knight – "I Got My Mojo Working"
5. Rufus Thomas – "Walking The Dog"
6. Jimi Hendrix – "All Along The Watchtower"

Mafia III Vinyl Soundtrack (SIDE TWO)
7. Sam Cooke – "Chain Gang"
8. Dewey Edwards – "I Let A Good Thing Go By"
9. Lonnie Youngblood – "Go Go Shoes"
10. Clarence Carter – "Slip Away"
11. The Animals – "The House Of The Rising Sun"