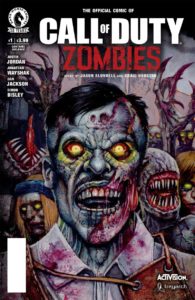 The Call of Duty: Zombies universe will expand this Fall with the launch of a Call of Duty: Zombies miniseries from Dark Horse Comics. Based on a story by Treyarch developers Jason Blundell and Craig Houston, Call of Duty: Zombies will be written by Justin Jordan (Green Lantern: New Guardians) and illustrated by Jonathan Wayshak (Devolution).
The series will span six issues, with the first scheduled to be released on October 19…
On his quest to secure an ancient artifact known as The Kronorium, Doctor Edward Richtofen enlists the help of The Tranzit Crew, a rag tag group of survivors last seen in the Black Ops II Zombies installment "Buried." On a deeply unstable and fractured future Earth, Stuhlinger, Misty, Russman, and Marlton battle for survival against the undead horde, as they slowly uncover the truth behind Richtofen's mysterious reappearance. The Call of Duty: Zombies miniseries follows these characters' perilous journey of discovery, filling in crucial pieces of the larger Zombies story.
Call of Duty fans can get a sneak peek at the comic adaptation at this year's San Diego Comic-Con, where Blundell will be a guest during Dark Horse's Comics & Video Games panel on Thursday, July 21, at 8:00 PM (Eastern Time). In addition to talking about the comic miniseries, the developer will also "shed light onto some of the secrets hidden within the Call of Duty: Zombies saga."