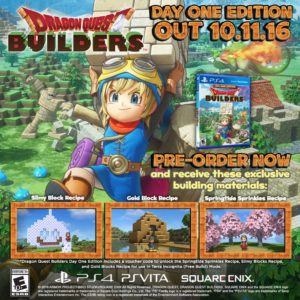 Listen now to my words, Square Enix has officially narrowed down the release date for Dragon Quest Builders from October 2016 to October 11, 2016… so be sure and update your calendar accordingly.
The publisher also confirmed that prospective players will be able to pre-order a special Day One Edition for the PS4 that includes bonus downloadable content for the game's Terra Incognita (Free Build) Mode. This content will include exclusive in-game building materials, including a Slimy Block Recipe, Springtide Sprinkles Recipe, and Gold Block Recipe.
And don't forget, if you're in San Diego this weekend for this year's San Diego Comic-Con, you'll be able to swing by Square Enix's booth or the Square Enix Experience on Saturday and Sunday to give Dragon Quest Builders a try.
Dragon Quest Builders is also in the works for the Vita, and it'll be available to download through the PlayStation Store on October 11 as well.