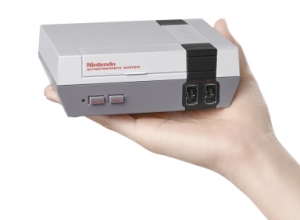 Nostalgic Nintendo fans are hyped for the NES Classic Edition, and a strong response to the microconsole's announcement has encouraged competitors and caused fans to wonder, "When is the Super NES Classic Edition coming?" But little did we know, Nintendo of Canada's Communications Manger revealed a bit about the NES Classic Edition during a French Canadian radio program, La Terrasse Energie, shortly after its announcement last month.
Helpfully translated by Nintendo Everything, Communications Manger Julie Gagnon confirmed the NES Classic Edition will include multiple display options. The microsoconsole will include a 4:3 Mode to recreate the NES's original aspect ratio, as well as a CRT Mode that simulates the look of a classic tube TV. A Pixel Perfect Mode will also be available, which will "display each pixel as a square."
The NES Classic Edition will be available in stores on November 11.