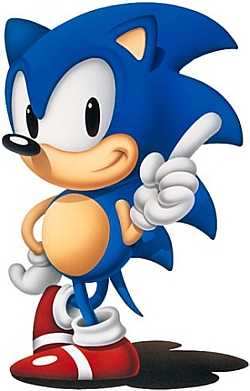 Sega has been unusually quiet about the future of Sonic the Hedgehog since announcing Sonic Mania and Project Sonic at Comic-Con 2016. That'll all change next month, when the publisher hosts "Gotta Go Fast: The Official Panel of Sonic the Hedgehog" at South by Southwest 2017 on Thursday, March 16.
Takashi Iizuka, the Head of Sonic Team, Aaron Webber, Sonic's Community Manager, and Roger Craig Smith and Mike Pollock, the voice actors behind Sonic and Dr. Eggman, will give fans a behind-the-scenes look at both games, along with unveiling a few "other surprises":
Dive into the world of Sonic the Hedgehog in this exclusive behind-the-scenes look at both Sonic Mania and the upcoming Sonic 2017! With presenters from Sega and Sonic Team's Takashi Iizuka, this panel will answer questions about both games, showcase a new reveal for each title, and will discuss Sonic's resurgence in the world of gaming since the reveal of both games. Of course, with Sonic involved, who knows what other surprises might be in store?
Sonic Mania is a side-scrolling platformer that's an homage to Sonic's past, and it'll be available this Spring. Project Sonic is a new 3D game that'll launch this Fall, and it features many of the same time-bending shenanigans as Sonic Generations. Both games are currently in the works for the PC, PS4, Xbox One, and Nintendo Switch.