It's much too early to say for sure, but it looks like Nintendo is off to a great start with the Switch. The Wii U had bit of a hot start as well, but something feels different this time. Perhaps it's the near-universal acclaim that Breath of the Wild has received. Or maybe it's the interesting selection of exclusive launch titles that you can only get on the Switch.
Whatever the reason, after a week with the Switch, I'm enjoying it very much. And that's not the only thought that popped into my head over the last seven days…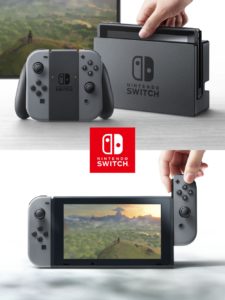 1. Nintendo packaged the Switch for maximum "Wow." The first thing you see when unpacking the Switch, nestled snuggly in the cardboard, is the tablet-like screen of the console and both Joy-Con controllers. The Switch is a slick piece of technology, no more so than the very first time it smacks you in your eyeballs.
2. The Switch is light, but it doesn't feel slight. There's just enough heft to the console, and it never feels like a toy. Compared to the Wii U, the Switch looks downright futuristic after the Joy-Cons click into place
3. By the way, the Joy-Cons also feel fairly solid… both separately and when attached to the included Grip.
4. The click sound the Joy-Cons make when attaching them to the console is so satisfying. I thought it was odd that Nintendo seems to have based their entire marketing campaign around that click sound, but hearing it in real life proves that the consolemaker knows what they're doing. That click is the perfect summation of what the Switch is all about.
5. The initial setup was nerve-wracking. The Switch instantly connected to wifi to perform an update, but after the update installed, it refused to reconnect the network for like 20 minutes. At some point, it just started working.
Also, the image kept flickering when the Switch was docked in TV Mode, but I was able to easily correct that by specifically setting the console to output in 1080p.
6. Friend Codes … Whhhhyyyyyyy? After learning that all digital purchases would be tied to a Nintendo Account instead of the console itself, many people assumed that randomly assigned Friend Codes were as good as dead. They. Were. Wrong.
Nintendo has already admitted that a way to add Friends by searching for their Nintendo Network ID is in the works. But until then… ugh… Friend Codes.
7. Navigating the eShop is a breeze. Yes, there's only nine titles currently available to download through the Switch's eShop, but the online store is extremely easy to use. That's gotta count for something.
8. Docking the Switch is also incredibly nerve-wracking. Even before I read a few reports about how the console's dock could scratch the screen, I was worried about docking and undocking the Switch. Lining up the bottom of the screen with the port will take some practice, and I think it'll be quite some time before I make a smooth switch between TV Mode and Handheld Mode.
9. That said, walking around my house with the Switch is so fun. But I'm a little scared to take it outside.
10. The battery life is fantastic. I put five-to-six hours straight into Shovel Knight in Handheld Mode and the battery never dropped below 50%.
11. The Game Card door is flimsy. I feel like my giant hands are going to break the little door that protects the Game Card Slot when opening and closing it. Maybe I'm a wuss, but I've decided I'm just going to leave it unlocked at all times.
12. All the accessories are way too expensive. $30 for a second AC Adapter? $70 for the Pro Controller? $80 for another pair of Joy-Cons? I know that Nintendo is averse to selling anything at a loss, but those prices are insane.
13. However, Zelda: Breath of the Wild feels like a bargain at $60. Its mix of fantasy storytelling and high technology (Link carries a Switch-like tablet to help him perform tasks) is awesome. And even before you leave the game's opening area, the Great Plateau, its world feels vast and full of secrets.
14. Shovel Knight: Specter of Torment is an amazing riff on Ninja Gaiden (and 8-bit gaming in general). Yacht Club's second expansion to the Shovel Knight saga is an intriguing prequel, and it's just as different from Plague of Shadows as that campaign was from the original adventure. Specter of Torment is such a good platformer that I've actually been ignoring Breath of the Wild to play through it twice.
The developers at Yacht Club live and breath 8-bit… Specter Knight experiences flashbacks that appear on screen in a soupy haze that can only be described as "Game Boy Green."
15. Don't let its adorable exterior fool you, the puzzles in Snipperclips: Cut It Out Together provide much more than a paper thin experience. Each level provides a decent challenge, and most of them actually require a hefty amount of brainpower to solve. Snipperclips might be the sleeper hit of the Switch launch.
16. Super Bomberman R might be a dud. The isometric camera in Story Mode is annoying, and the continue system is even more cumbersome. And how could Konami slap a $50 price tag on a Bomberman game in 2017?
But Bomberman was always a multiplayer game first, and most fans will likely have a blast competing against four players locally or eight online.
17. The Switch has a bright future. Even after I finish with Breath of the Wild, Shovel Knight, and Snipperclips, the upcoming release schedule for the Switch includes dozens of titles I'm interested in, and I think there's a very good chance that Nintendo's newest console will go on to live a long and happy life.