Even though it shipped to stores in a half-finished state, the near-instantaneous success of Splatoon guaranteed that a sequel would make an appearance sooner rather than later. But with Splatoon's rise coinciding with the Wii U's collapse, that sequel is now bound for a Summer 2017 launch on the Nintendo Switch. And the whole world got to test it out this weekend as part of the Splatoon 2 Global Testfire.
Does the franchise still feel "fresh" two years later? Oh yeah…
Platforms: Switch
Publisher: Nintendo
Developer: Nintendo
Genre: Ink-Stained Team-Based Shooter
Release Date: Summer 2017
ESRB Rating: Rating Pending
This weekend's Global Testfire for Splatoon 2 focused on the Turf War multiplayer mode, where two teams of four compete to cover the floor of an arena with ink. Whichever team covers a greater percentage of the floor with their color is declared the winner. It's a simple game mode, but it gives players the chance to explore many different offensive and defensive strategies. They can even ignore their opponents and just try to paint as much of the arena as they can.
Players who are familiar with the original Splatoon will feel right at home with Splatoon 2's version of Turf War. Nintendo hasn't made any major changes to the match type, but both arenas used in the Global Testfire will be exclusive to the sequel. "The Reef" is an open-air mall with small shops, parking lots, and plenty of hangout space. Meanwhile, "Musselforge Fitness" is a gym with a central basketball court, a climbing wall, and lots of ramps. I'm sure both arenas will begin to feel more unique after I spend more time with them, but they still felt rather generic after more than a dozen matches apiece.
The Global Testfire introduced a new Main Weapon loadout to the franchise, including dual-wielded pistols known as Splat Dualies. The guns (which players could choose in addition to the returning Splattershot, Splat Charger, and Splat Roller) are a fun rapid-fire option, and the dodge roll ability they confer is a neat trick. A number of new Special Weapons were also included in the online test, such as the Inkjet, a jetpack that can hurl ink bombs (and the closest you'll ever get to becoming Iron Squid); the Splashdown, a wrestling-style flying punch of ink; and Tenta Missiles, a backpack loaded with squid-seeking rockets.
The controls in Splatoon 2 are just as smooth as the first game, and laying down ink or doing battle with rival Inklings still feels great. Even the button layout is the same (ZR to shoot, L to swim in ink on the ground, B to jump). When I first played Splatoon, the consolemaker astonished me by taking a unique and colorful concept that just screamed NINTENDO and building an excellent multiplayer shooter around it. For the sequel, I'm just glad they didn't feel the need to try to fix what wasn't broken.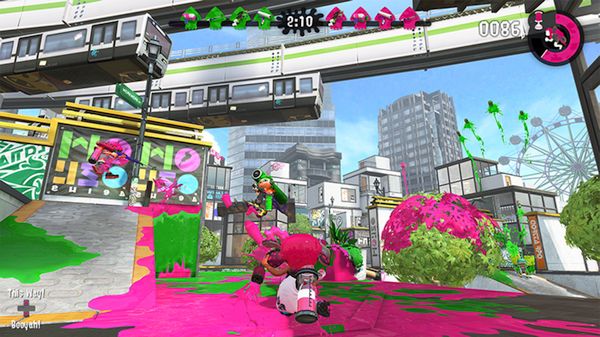 But Splatoon was also designed as a showcase game for the Wii U GamePad, and being able to glance down at the second screen to view the map was a major part of each match. The GamePad offered a helpful overview of the current ink coverage for each team, and the ability to Super Jump to a teammate by tapping their name was a great way to quickly join the action. With the Switch's downgrade to a single-screen experience, this functionality had to be tweaked for Splatoon 2. Thankfully, Nintendo was up to the task and built in a simple fix.
Players can check the ink coverage map with a quick press of X, and they can fly through the air with a Super Jump by selecting a teammate with the D-Pad. It's not quite as elegant as having this information in front of you at all times, but it works well enough.
And that's because, like The Legend of Zelda: Breath of the Wild, Splatoon 2 isn't just a watered-down portable experience. The sequel is the real deal, and it features the full console experience. But players now have the option of taking the game with them when they step into a different room or head out into the world. With ink flying in every direction, Splatoon 2 looks fantastic when played on the Switch's portable screen, but it also looks just as impressive on my 42″ television.
The only "problem" that I noticed with Splatoon 2's Global Testfire was that most matches would start with at least one player missing from the 4v4 contest. This kind of pre-release test is designed to catch just those types of connection problems, so I'm sure this won't still be a problem after it comes out.
Two years after its release, the original Splatoon still has a healthy and active online community of players. It takes no time at all to find a Turf War match, and I'm confident that many of these players will migrate to the sequel when it's released later this year. Splatoon 2's Global Testfire didn't show us anything that would have felt out of place in the first game, and with the way Nintendo added new modes, maps, and weapons to it over time, it could be argued that this "sequel" is little more than another expansion. But the consolemaker is clearly looking to draw fans in with promises of "more Splatoon" and "portable Splatoon," and in a way, they've already achieved both goals with this beta.
Splatoon 2 is out this Summer, and I can't wait to see what else Nintendo has in store for the colorful shooter. Even if the sequel just settles for "more Splatoon," that's alright by me.