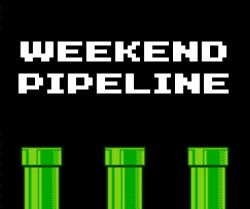 Weekends can be a real drag if you neglect to schedule in some well-deserved rest and relaxation. But with the hustle and bustle of the work week, all too often news of current events, you know, the ones we actually care about, sometimes escapes us.
Don't let the usual drudgery tie you down when there's so much more that you could be doing. Here's what's going on in the world of video games, and why you might want to take a few hours out of your weekend to check some of them out.
In-Game Events/Free Previews
Pokemon Go Global Water Festival – Niantic and The Pokemon Company have scheduled an in-game event called the Global Water Festival for Pokemon Go. The actual event started on Wednesday, March 22, and will last until next Wednesday, March 29, at 4:00 PM (Eastern Time). During the event, trainers will be able to more easily locate water Pokemon such as Squirtle and Totodile, along with their evolutions. There will also be a greater chance for trainers to encounter water Pokemon native to the Johto region, which were recently added to the game.
While the event lasts until next Wednesday, the work week typically isn't the best time to go out searching to catch 'em all. However if you've got the spare time, this weekend is a great time to fill up your Pokedex and work towards evolving that Magikarp you've been sitting on.
Splatoon 2 Global Testfire – This weekend is an excellent time to be a Nintendo Switch owner. Early adopters of the Nintendo Switch will be treated to the Splatoon 2 Global Testfire event this weekend, allowing players the chance to check out the newest installment in the Splatoon franchise months before its release date.
Players who choose to participate must first download a special Splatoon 2 demo. Downloading the demo will allow players to participate in the six events held over the weekend, taking place on Friday, March 24, between 3:00 PM – 3:59 PM and again from 11:00 PM – 11:59 PM. Saturday, March 25, will provide players with additional opportunities to play Splatoon 2 from 7:00 AM – 7:59 AM, 3:00 PM – 3:59 PM, and 11:00 PM – 11:59 PM. If you're not able to test out Splatoon 2 on Friday or Saturday, you'll have another chance on Sunday, March 26 between 7:00 AM – 7:59 AM.
But keep in mind, all times listed are Eastern Time and there's only one event scheduled for Sunday, so do plan accordingly.
Sales and Discounts
Play-Asia Spring Fever Sale – The weekends are made for shopping, at least they are for me… and nothing beats a good sale. Whether it's the excitement of walking in to a store and seeing that huge XX% off posters, or snagging a good Steam sale, it feels good to treat yourself while saving a few pennies.
Play-Asia is allowing players to save in a major way with their Spring Fever Sale, offering up to 70% off on select items, ranging from PC parts to graphic tees with your favorite video game protagonist plastered all over the front. So if you've been dying to get your hands on that hard-to-find Amiboo or simply import a game that's yet to release stateside, then now is a perfect time to do so. But beware… the Spring Fever Sale ends Monday, March 27 at 11:00 AM (Eastern Time).
Humble Bundle Square Enix Weekend – Humble Bundle is also coming out swinging this weekend with some amazing sales. Those looking to fill out their Steam library with some of Square Enix's hottest offerings will be pleased to know that select games will be available for up to 75% off!
Games such as Legacy of Kain, Murdered: Soul Suspect, and Rise of the Tomb Raider are all up for grabs. And the best part of it all is that, not only can you save a ton, and play some of the best games released to date, but you can also help someone in need, seeing as a portion of the proceeds will be distributed to various charities via GamesAid.
Conventions
MidSouthCon 35 (Memphis, Tennessee) – If you're looking for something neat to do while enjoying your break from the humdrum world that is the work week, MidSouthCon might be just the thing that you've been searching for. While it's not one of the bigger conventions, it still has a ton to offer. From discussion on the Mass Effect series and its impact on pop culture, to talks on game design strategies and how to better shape your video games storyline, there's something for everyone.
But most importantly, there's a game room! Attendees can check out the video game room, full of old classics and newer titles, casually play with others, or enter video game tournaments for a chance to win prizes. The video game room opens at 2:00 PM on Friday will remain open until 6:00 PM on Sunday.
Star City Anime (Roanoke, Virginia) – Roanoke residents, and those living nearby, can look forward to this weekend's Star City Anime convention. But don't let the name fool you, Star City Anime is about much more than Anime. Sure, there are the usual offerings such as cosplay contests and fan panels, but there's also a video game room, where you can go to play classics that you may have missed during their heyday, and make new friends via the competitive spirit of competition.
Star City Anime is definitely one of the smaller, lesser known conventions. But the upside of that is that attendees will get the convention experience in a more intimate setting and at a way cheaper price than what you'd expect to pay to attend one of the more notable conventions. Star City Anime starts this Friday, March 24 and ends Sunday, March 26.
Esports Events
Hearthstone Winter Championship – If none of the above events and activities interest you and you'd much rather spend your weekend indoors, then you might be interested in checking out the Hearthstone Winter Championship on Twitch.
Championship competitors will be tasked with facing off in a series of high stakes matches in an attempt to secure a spot at the Hearthstone World Championship and a chance to dip in to the $250,000 prize pool. Fans of Hearthstone should be extra excited about this event seeing as it will be the only HCT event played under the current Year of the Kraken format. The remaining HCT events will take place under the Year of the Mammoth.
The event began yesterday, March 23, in the Bahamas. However, fans can watch the remaining activities throughout the weekend.
Halo World Championship 2017 – Halo fans have something to be excited about this weekend, as the Halo World Championship Finals begins this Friday, March 24 at 1:00 PM (Eastern Time). Some of the nation's most notable esports teams will be in attendance, competing for the top spot in the Halo World Championships final bracket, along with a $1,000,000 prize pool.
Fans can watch the championship via Twitch, however if you're residing in or near Burbank, California then there's still a chance to watch the event live and in person. Legendary and Full Weekend passes have been completely sold out, but there are still a few Single Day tickets left if you'd like to attend.
As For Me…
I don't know about you, but I'll be flipping my house upside down in pursuit of my PlayStation Vita. Assuming that I'm able to find it, I'll be plugging away at completing Persona 4 Golden in preparation for the Persona 5 release, and sporadically playing Paladins and Watch Dogs 2. As for you guys, I hope that you all have an excellent weekend, and are able to set some time aside for indulging in our beloved hobby. Happy gaming!