Have you ever wanted a game that was roguelite and also had RPG elements? What about a game where you're a pirate with an anchor you use as a grappling hook? And did you also want it to have gorgeous retro art, a hyper-catchy and upbeat soundtrack, and maybe a little slime guy for a compass that you feed coins to?
Is this too specific a dream? Is this exactly the game you wanted? Because if it is, I have really amazing news for you… Flinthook is here, and it's going to make all of your dreams come true.
Platforms: PC, PS4 (Version Played), Xbox One
Publisher: Tribute Games
Developer: Tribute Games
Genre: Roguelite Hook-Playing Game
Release Date: April 18, 2017
ESRB Rating: Everyone 10+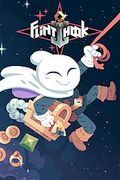 Let's start at the beginning. Flinthook is the latest from the team behind Curses & Chaos and Mercenary Kings, a little Canadian developer called Tribute Games. They've managed to take all of the magic from a series like Mega Man, mixed in some roguelite and RPG elements, gave it the perfect art direction, and put in a soundtrack that gets me hype to fight pirates and collect bounties.
If all of that isn't enough to instantly slam dunk a purchase, there's more. You play as little Flinthook himself, a tiny pirate with a big attitude, and controlling him is incredibly intuitive. You take on bounties and then fight through hordes of pirates on procedurally-generated ships. Use your flinthook to swing around, your gun to blast through enemies, and your time belt to – what else? – slow down time. You've also got secondary weapons you can unlock, my favorite of which is the Spinning Skulls – it's a trio of skulls that spin out from you and damage everything they hit. You're a tiny explosion flying from room to room, wreaking havoc and leaving nothing but empty treasure chests in your wake.
The goal is simple: fight through ships, gain Ghost Gems, feed them to your (adorable) compass, and once he's had his fill, he'll lead you to the bounty. The ships themselves have an incredible number of variables – I doubt I've even seen them all at this point. Just a few include Platoons, Librarius, Relic Shop, Labyrinthine, Flyaxe Infestation, and easily over a dozen more. Pick which ship you want to go on and then explore your way through it, dodging obstacles, fighting bad guys, gathering treasure, buying power-ups, and eventually getting to the final chest, which usually has a room full of bigger baddies or a mini-boss right before it. At the end, grab your Ghost Gem, feed it to your compass, and then the ship explodes! Once you unlock the bounty itself, that boss will be no joke.
Your power-ups and Ghost Gems will disappear once you die, though. Then you'll level up depending on how you did on that run. Leveling up will unlock booster packs that you smash open to reveal perks you can equip before going in again. Perks can be purchased through the Black Market using gems that you collect with Ghost Gems that are just called Black Market Gems.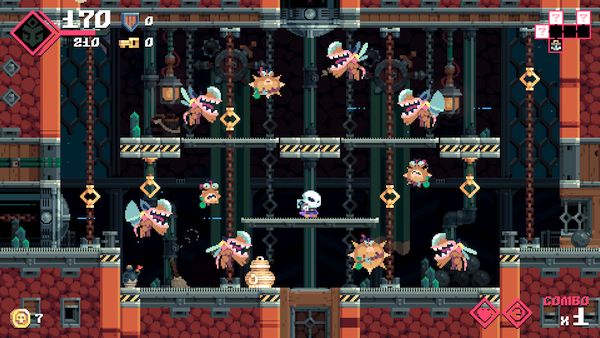 The main menu has several options, including continuing the campaign, going to the Black Market, taking on the daily and weekly Challenges, reading your collected Lore, and checking out any and all Relics you've picked up. My favorite character so far has to be the amazing Black Margot, who, as the lore has it, is an "Octopoid hired by Trevoy Ploom," the little crab on her shoulder.
Speaking of character design, there are so many unique and lively enemies and NPCs in this game. Every special room has an NPC you can talk to, each one bouncing in place… or ominously hiding in the shadows. The enemies range from practically innocuous to aggressively startling, and they come at you faster and harder as you progress.
Flinthook is definitely not a game for the weak of heart, or for anyone who gives up easily. It has the same feel – and a fantastically on-point soundtrack – as a Mega Man game. Levels can be frustratingly hard, but never so unfair that I want to stop playing. More often than not, I just dive right back in again, eager to get my hooks into more enemies and treasure.
I can't recommend Flinthook enough, especially to those looking for a colorful, upbeat, intense roguelite. It has it all – great art, a catchy soundtrack, and hey, it's even got a story. For just $14.99, this should be a day-one purchase for anyone who likes games that give a lot of challenge hand in hand with a lot of fun.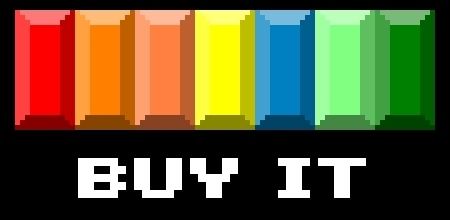 Review Disclosure: A review copy of Flinthook was provided by Tribute Games for the purposes of this review.